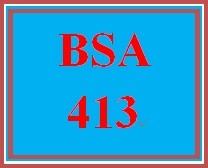 BSA 413 Week 1 Individual: Understanding Elements of Service Strategy
**********************************************
BSA 413 Entire Course Link
https://uopcourses.com/category/bsa-413/
**********************************************
BSA 413 Week 1 Individual:
Understanding Elements of Service Strategy
Select
 a medium- or large-sized business in a
specific field with an in-house IT department.


Answer
 the following questions for that
organization:


What are 5
IT serv0ices that should be offered?


Who should
each of these services be offered to?


Who might
compete with the internal IT department to provide each service?


How would
the service create value? How would each customer measure that value?


What are the
basic elements of a business case for the development and use of that
system? (1 to 3 sentences)


How could
the performance of the service be measured?


You'll get 1 file (22.6KB)
More products from UopTutorials