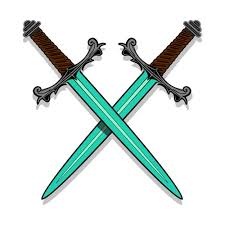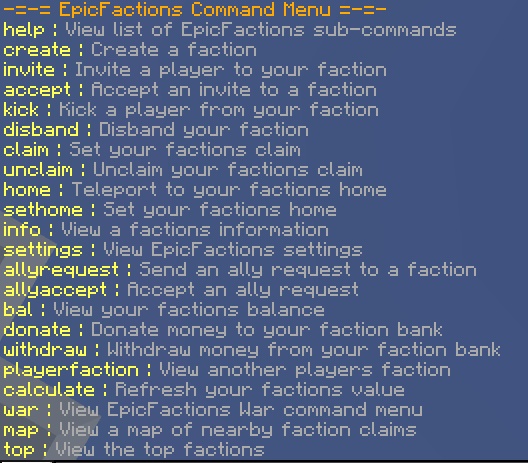 EpicFactions
EpicFactions

Features

- PC Based Faction Map
- Advanced Faction War System
- Advanced Faction Claiming System
- Faction Economy System
- Easy API For Developers
Commands

Faction Handling

     - create <name : Create a faction
     - invite <player : Invite a player to your faction
     - accept <faction : Accept an invite to a faction
     - kick <player : Kick a player from your faction
     - disband : Disband/destroy your faction 
  Faction Wars (/f war)

      - declare <faction <price : Request a war with a faction over a price
      - surrender : Surrender in a faction war
      - rules : View the rules for faction wars
      - status <faction : View the status of a factions war   
Faction Bank

      - bal : View your factions balance
      - donate <amount : Donate money to your factions bank
      - withdraw <amount : Withdraw money from your factions bank   
Misc

       - info <faction : View a factions info
       - playerfaction|pf <player : View a players faction
       -  map : View a map of nearby chunks
       - top : View the top factions
       - home : Teleport to your factions home
       - sethome : Set your factions home
       - claim : Claim chunks for your factions
       - unclaim : Unclaim your factions chunks
Faction Wars
Factions can use the faction war commands to declare and surrender in wars.   EpicFactions uses classic MCPE mechanics during wars meaning Enchantments, Potions, and damage modifiers are disabled. Factions must kill each of their enemies at least once or get enough kills to equal the # of players in the enemy faction. When a faction wins a war the agreed upon price is deducted from the losers faction bank and added to the winning factions bank.
EpicFactions has a simple API for developers, documentation can be found at (
https://gist.github.com/0x15f/9e803851262443c8f97542266cd42b4b)
.
Some parts of EpicFactions may be loosely based on FactionsUltimate by Jake Casto & MassiveFactions by MassiveCraft. All code is however original.
Requirements

- EconomyAPI by onebone
Note
: Support for this plugin may no longer be available after MCBE 1.3 releases if any updates are released for this plugin they will be emailed to the account on the invoice. By purchasing this product you agree that you will not chargeback.
You'll get a 112.1KB .PHAR file.
More products from Jake Casto