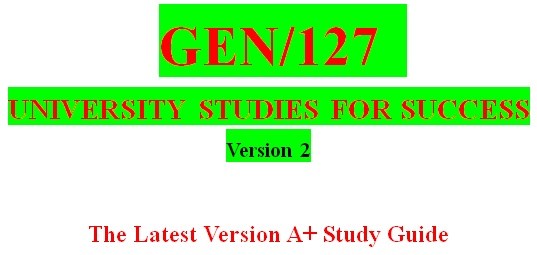 GEN127 Week 2 Readiness and Behavioral Assessments
https://uopcourses.com/category/gen-127/
GEN127 Week 2 Readiness and Behavioral Assessments
Instructions
Complete the Life Factors Assessment and Personality Assessment, located in the Phoenix Prep Center.
Go to
http://www.phoenix.edu
. Select Phoenix Prep Center in the upper right. If you do not have a login profile, create one. The eCampus login profile will not work for this site. At the center of the page is the Life Factors behavioral diagnostic. Select Begin to start the assessment.
Write a summary (approximately 300 words) in a Microsoft Word document responding to the following questions:
- What did you learn from the results of the Life Factors and Personality assessments? In your own words, please describe your strengths from these assessments and how they impact your engagement in school.
- Of the life factors mentioned (time, place, reason, resources, skills), which do you need to focus on the most? Why? How will your behavior need to change?
- What personality factor (academic attributes, help seeking, persistence, procrastination, time management, locus of control) will you work most to strengthen? Why? How will your behavior need to change?
You'll get 1 file (17.6KB)
More products from UopTutorials