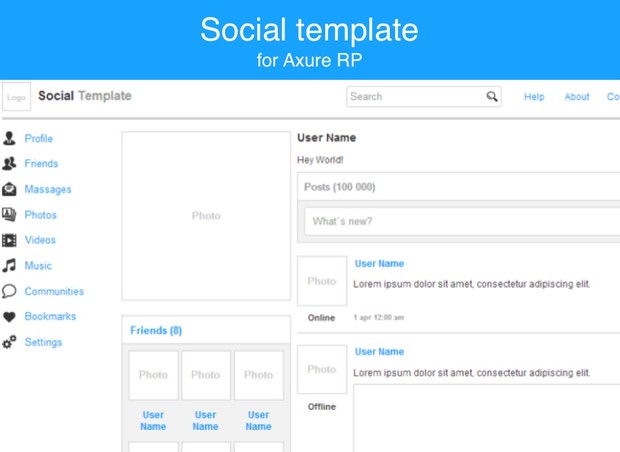 Axure template / Social
Live demo:
http://q025ir.axshare.com/
This is not just a template. This is the unique designer, which can help you to create prototypes of social directions without any difficulties. Template consists of dozens essential widgets and modules.
TEMPLATE FEACHERS:
Responsive Design
All of the pages and masters of this template are created in 3 resolutions: 990 pixels, 768 pixels and 320 pixels. With a help of updated Axure 7 it became much easier to create and to change adaptive versions of the pages.
Forms of log in and registration
This is very comfortable module with alternative scripts, which helps one carry out plausiblytesting at the prototype. Also this module can be used in other prototypes, because it is made universally.
Profile-wall
The unique module that will help one to add notes, photos, videos and audio-files. This is the complete imitation of the adding notes process in a social network.
Messages
Messaging, creating a new message, interaction with the list of messages-all this is considered in the Social template.
Music, video and photos
In the template the storage process and view of the most popular types of media files is worked through.
Use Cases
Template consists of alternative scripts of user's interaction with the interface. This template consists of both successful and wrong scripts.
Axemplate - Best Axure templates and widget libraries.
With:
- FREE DEMO
- AXURE RP 7 ADAPTED
- RESPONSIVE DESIGN
- ADVANCED DYNAMIC
- MASTERS USAGE
- FREE NEW VERSIONS
Visit our wesite:
http://www.axemplate.com/
You'll get 1 file (2.9MB)
More products from Axemplate