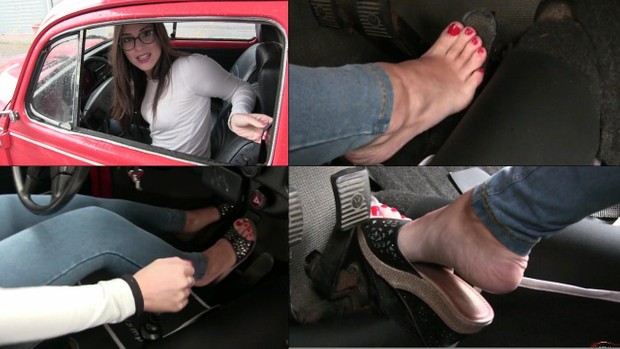 138 : Miss Iris enjoys her first drive and revving with the WV Beetle Maggiolino
"It's a beautiful day and I am the first to try Maggiolino..."

Yes, Guys !
A new adventure with Miss Iris and the VW Beetle starts today!

Miss Iris is so happy and excited  to try driving the Beetle and rev it with the
Pedal Vamp style that we all know very well!

So she gets in the car and she starts driving around Turin with her fancy
Beetle but … she has to do some practice with it ! Sometimes the car stalls and
Iris, with her lovely smile, cranks it a couple of time to have the engine
alive and continue her trip!

In this video we can see either Miss Iris so concentrated and happy to drive
such a classic or her feet pumping the pedals and going from one pedal to the
other while driving!

After a few miles, Iris decides to rev it quite  hard, just to make it feel that Pedal Vamp
girls rev because they love the engine melody which is soooo exciting!

Watch her beautiful feet dancing on pedals, barefeet also !
You'll get 1 file (497.4MB)