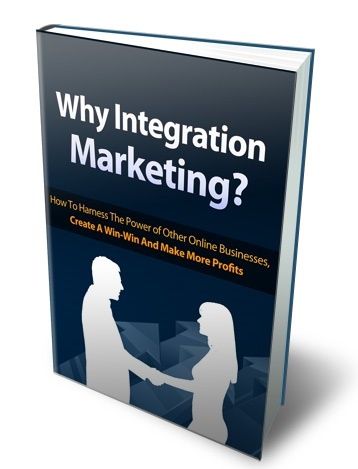 Why Integration Marketing
ATTENTION: Online business owners

"How To Harness The Power of Integration Marketing In Your Online Business For Easier Profits, Faster & Better Than Ever Before..."

Whatever Business You're In, You Too Can Harness The Power Of Integration Marketing To Crush Your Competition

Introducing...Why Integration Marketing?

Having a website is one thing, but promoting it is another.

Here's what you'll discover in the Promote Tactics guide:

*How anyone, even if you're a small business owner, can increase profits by using integration marketing.

*How even the big companies like Nike and Google utilize integration marketing.

*A strategy you can follow for a sure-fire win/win with your integration partner.

*How to find integration marketing partners.

*Integration marketing tactics that work in any scenario.

*How to model sites like GoDaddy in your online business and double, triple even quadruple your sales!

*How integration marketing creates a win/win for each party and why it makes it almost like a no-brainer for partners to hop on board.

*What to blog about and the different styles of blogging you can use when blog posting.

*...and much, much more!


You can own Why Integration Marketing today for a mere $1.99.

That is a truly incredible value, especially considering the significant difference it'll make to your success.

Did we mention this eBook is only $1.99? It's definitely a point worth repeating. You will be hard-pressed to find a more valuable resource.



Your License:

Personal use rights only. This can not be resold.


We're delighted to have the chance to share this powerful guide with you, and I know you'll be very happy with the results.

Again, you will receive the comprehensive and valuable insights you need to become a successful entrepreneur for only $0.99.

Please click the BUY NOW button right now and take ownership of this valuable eBook TODAY!


You'll get a 331.5KB .PDF file.
More products from Smart Life Skills