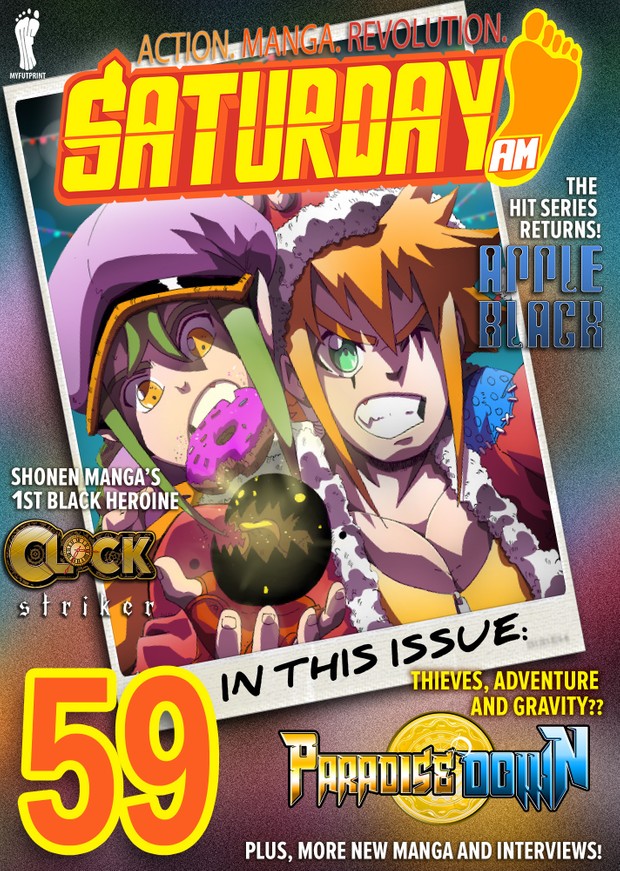 Saturday AM #59
IN THIS ISSUE of the BEST. DAMN. MANGA. DIGITAL. ANTHOLOGY ---

SATURDAY AM #59 is here to prep for next week's BIGGEST HOLIDAY with the HOTTEST EXCLUSIVE and ORIGINAL SHONEN MANGA WEBCOMICS ONLINE??

Saturday AM #59 is here and man, this issue was a BUTT-KICKER!!

It's always hard to get issues out near the end of the year but for three years now -- we've managed to not just do that but to deliver 20 issues a year and some of the BEST. DAMN. MANGA. in the world!!

Issue 59 hits our highest levels of quality with a gorgeous cover by Jaime Molina and Leonardo Massip! Our exclusive comics include all-new installment of PARADISE DOWN which adorns our cover but also the KING IS BACK! Our most popular manga webcomic, Whyt Manga's APPLE BLACK has an all-new blockbuster installment! 

SPOON and MONSTER BLUE check in with exciting new stories of modern fantasy while ASTRONITE concludes its' run as our newest PILOT chapter by our YOUNGEST EVER CREATOR! And the one and only CLOCK STRIKER leaves us with a HELLUVA CLIFFHANGER!

That's not all!

INTERVIEWS with MILLENIUM EXILE's Ty Hanson and BRANDON CHEN(Novelist of several Kindle, Amazon books) help to round out the issue! PLUS -- the BIG ONE get the JUMP on EVERYONE ELSE for EXCLUSIVE DETAILS on our first TEST FLIGHT of 2017- it's only for Saturday PM though!

So, stop messing around and GET READING!
You'll get 1 file (136.7MB)
More products from Saturday AM