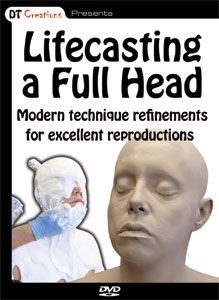 Lifecasting a Full Head - Modern technique refinements for excellent reproductions
SAVE 10% OFF THE ORIGINAL DVD PRICE!
Running Time: 60 Minutes.
This isn't just another lifecasting video. It demonstrates technique refinements developed over years of professional experience. The demo features a tweaked and perfected version of the oldest and most widely used alginate lifecasting technique, analyzing common mistakes and flaws of the "classic way". It is of the utmost importance to yield the best possible lifecast if you want to create a highly detailed and undistorted replica of the head.This DVD shows how to do just that. You will also learn how to pull a fiberglass positive directly from the alginate mold, creating a lightweight and incredibly durable casting. The final piece will be used in our next Tutorial "Casting,Painting & Finishing a Silicone Head".
You'll get 1 file (413.8MB)