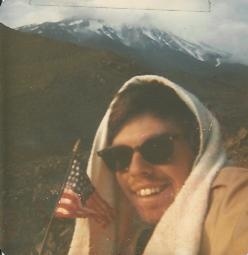 On the Trail with the History Detective: Did Joseph Smith, Jr. have more than one wife
This pdf book is 250 pages long (126 half size pages) and is the first scholarly review in this Century that examines if the Mormon Prophet Joseph Smith, Jr. actually had more than one wife or not. This book goes back to original source documents from over 150 years ago and examines them from the critical eyes of The History Detective, Doctor Kyle Kenley Kopitke.
Doctor Kopitke shares his keen insights of deduction and scientific research into such topics of (1) Section 132 origins, (2) William Clayton Diaries, (3) Supposed 80 other wives of Joseph Smith, Jr., (4) Enid DeBarthe's groundbreaking research, (5) Supposed other children of Joseph Smith, Jr., (6) Original Section 101 from the Doctrine and Covenants, (7) Andrew Jenson Affidavits, (8) Timing Issues, (9) Succession Wars, (10) Brigham Young.
The critical theme of the book is if there is any credible evidence that Brother Joseph Smith, Jr. was married to anyone other than Emma. Was she he first and only wife or was she one of up to eighty-one total wives?
In November of 2014, the LDS Historical Department, issued an historical edict that Brother Joseph had up to 40 other wives; did they base that on sound historical documents or to be "cool" and listen to the roar of the crowd?
This is a book for the ages if you seek an understanding of the Prophets Joseph Smith, Jr. and Brigham Young.
By purchasing this book in a pdf format, you are entitled to print out one copy for yourself. Because this is a digital product, please be aware that the author depends on your honesty not to forward it (of course this does not apply to you regarding "honesty").
Be sure and check back on September 17th for the new release from Doctor Kopitke of his next exciting scholarly book of "Towards an American Renaissance."
On September 17th, 2015, Doctor Kyle Kenley Kopitke announced his candidacy for the Office of President of The United States of America.
You can view his Presidential Campaign website at:
PresidentKopitke2016.info
.
Below is an ABC News story about Doctor Kopitke's Presidential Race.
http://www.abc12.com/news/localnews/headlines/Flint-man-running-for-president-as-Independent-candidate-328932121.html
If you have any trouble accessing your purchase please email me at
[email protected]
You'll get a 477.9KB .PDF file.
More products from Kyle Kenley Kopitke