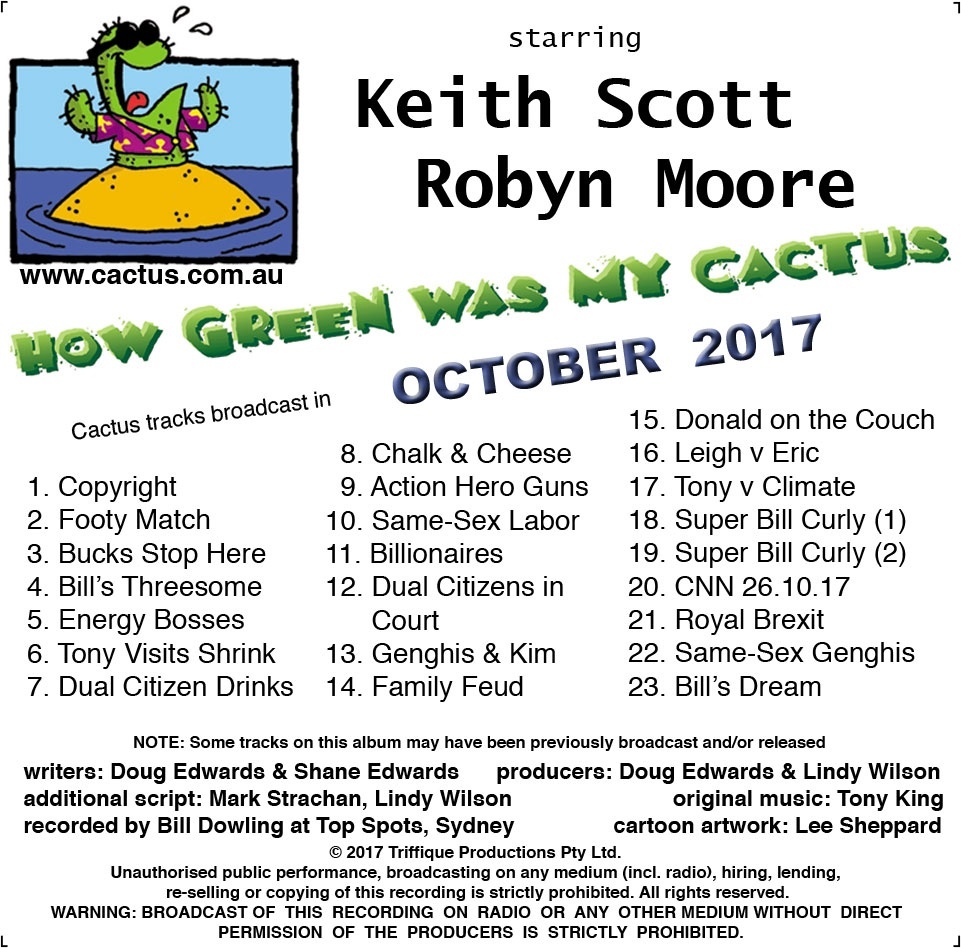 CACTUS - October 2017
CACTUS
OCTOBER 2017
TRACKS
1. Copyright: All material downloaded is copyright.Unauthorised public performance,broadcasting on any medium (including. radio),hiring,lending,re-selling or copying of this recording is strictly prohibited.All rights reserved. ©2017 Triffique Productions Pty Ltd
2. FOOTY MATCH: Mal Talkbull joins Big Gazza Roidman at the Cactus Island Rugby League final between the Drosstown Neanderthals and the Scumtown Amoebas.
3. BUCKS STOP HERE: President Donald Dump keeps his hand in business by selling defence weapons to scared Asian countries. Every mad North Korean has a silver lining.
4. BILL'S THREESOME: Labor Leader Bill Curly talks to his British counterpart Jeremy Corblimey as well as old American leftist Bernie Sandman whose liver spots even have liver spots.
5. ENERGY BOSSES: Malcolm Talkbull confronts energy company CEOs over the cost of electricity and gas. Their reply to Mal is physically uncomfortable.
6. TONY VISITS SHRINK: Judas Bisop takes ex-PM Tony Abs to a psychiatrist to treat his homophobia. Tony denies disliking gays but he wouldn't want his daughter to marry one.
7. DUAL CITIZEN DRINKS: British citizen Senator Fiona Rash asks why she can't sit in our parliament when Queen Bessie is our head of state and is the pommiest pom there is.
8. CHALK & CHEESE: Ex-PM Tony Abs and Senator Eric A'boofhead try to convince their Liberal Party colleagues that same-sex marriage was invented by Hitler.
9. ACTION HERO GUNS: Talkback radio stars Arnie and Sly encourage membership of the National Rifle Association in case Britain attacks to reclaim America.
10. SAME-SEX LABOR: Bill Curly and his Labor colleagues argue the same-sex marriage issue. Senator Reg Oldschool thinks same-sex activity should only be practised by snails.
11. BILLIONAIRES: In the Billionaires Club, Cruella De Creosote complains to fellow mining magnates that the government won't approve her plans to turn the Kakadu wetlands into a tailings dam.
12. DUAL CITIZENS IN COURT: Judge Cranky is surprised that some of our politicians have dual citizenship. Are they trying to stuff up two countries at once?
13. GENGHIS & KIM: Radio talkback legend Genghis Porkbun discovers North Korean leader Kim Jong Nong's secret passion – stand up comedy.
14. FAMILY FEUD: The Liberal family and the Labor family appear on the tv show Family Feud. Labor's Bill Curly thinks the buzzer is a Bundy machine, presses it and goes home.
15. DONALD ON THE COUCH: Psychiatrist Dr Sigmund Sheiserhousen treats President Donald Dump whose wife Melania delivered him to the clinic at gunpoint and pushed him in the door.
16. LEIGH v ERIC: Senator Eric A'Boofhead tells 7.30  host Leigh Nails that same-sex marriage will lead to marriage with inanimate objects like the Sydney Harbour Bridge. Back away slowly.
17. TONY v CLIMATE: Ex-PM Tony Abs explains the benefits of global warming for business. For example, ski lift operators can charge a lot more for the longer ride to the snow.
18. SUPER BILL CURLY (1): Bill Curly asks why families can't pay their electricity bills. One man cut usage by taking the light bulb out his fridge, but then put tomato sauce in his tea instead of milk.
19. SUPER BILL CURLY (2): Worried by the plight of working families, Super Bill Curly confronts Mal Luthor in his hideout, the Warren Buffet Suite of Trump Tower in the Cayman Islands. 
20. CNN 26.10.17: The top story: Pauline Hatful blames rising sea levels on the weight of migrants sinking our country.
21. ROYAL BREXIT: At Buckinghuge Palace, the Royal Family discusses Britain leaving the European Union after 40 years. Prince Charles hates it – he only just learned to say bonjour.
22. SAME-SEX GENGHIS: Radio talkback genius Genghis Porkbun speaks to anti-same-sex marriage advocate Tony Abs. Genghis calls for a net to catch all of Tony's red herrings.
23. BILL'S DREAM: Flopposition leader Bill Curly dreams that he wins the next election. That's the thing with dreams, some of them are just so silly.
COPYRIGHT: All tracks and material ©2017 Triffique Productions Pty Ltd. All rights reserved. All material downloaded is copyright. Unauthorised public performance, broadcasting on any medium (including. radio), hiring, lending, re-selling or copying of this recording is strictly prohibited. All rights reserved.
You'll get a 44.6MB .ZIP file.
More products from doug_e