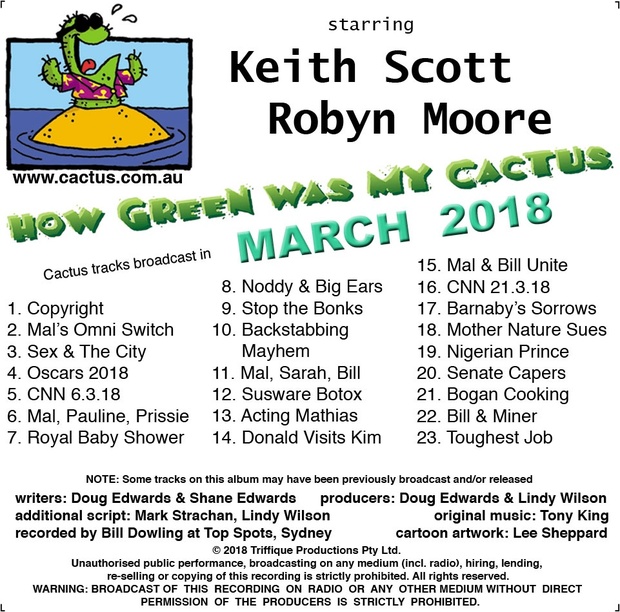 CACTUS - March 2018
CACTUS
MARCH 2018
TRACKS
1. Copyright: All material downloaded is copyright.Unauthorised public performance,broadcasting on any medium (including. radio),hiring,lending,re-selling or copying of this recording is strictly prohibited.All rights reserved. ©2018 Triffique Productions Pty Ltd
2. MAL'S OMNI SWITCH: Mal Talkbull has a plan to improve the government's standing in the opinion polls. Perhaps he can turn some water into wine too.
3. SEX & THE CITY: In the wake of the scandal engulfing Barnaby Joh, SBS darling Lip Lip Chin investigates the history of sex in politics, helped by an expert, former PM Bonk Hawke.
4. OSCARS 2018: Richard Richard is at the Academy Awards in Hollywood where every Oscar seems to be won by our own Barnaby Joh.
5. CNN 6.3.18: Sandra with news, Big Gazza with sport, and showbiz editor Richard Richard reports that Andre Rieu has written his autobiography…because his car is more interesting than he is.
6. MAL, PAULINE, PRISSIE: Mal Talkbull and Prissie Pyne explain to Pauline Hatful that big business tax cuts will result in a trickle down to workers. Or is that a golden shower?
7. ROYAL BABY SHOWER: Queen Bessie of Buckinghuge Palace helps Duchess Kate organise yet another baby shower. A claret-sodden Prince Philipoussis is more interested in an owl he thinks is nesting in the chandelier.
8. NODDY & BIG EARS: Today's story, kiddies, is called Noddy and Big Ears Buy A Gun. Noddy is the rich one with the big head, and Big Ears if the one with the really big euphemism.
9. STOP THE BONKS: Mal Talkbull has banned sex between government MPs and their staff, much to their disappointment. Morning tea time will never be the same.
10. BACKSTABBING MAYHEM: Political commentator Mark Mayhem looks at the history of backstabbing in the Labor Party. Which is about the only policy we can trust them to deliver.
11. MAL, SARAH, BILL: A PM, a Flopposition leader and a Green Party spokes-pixie walk into a bar. The PM Mal Talkbull mistakes Flopposition Leader Bill Curly for the bar's slop cloth.
12. SUSWARE BOTOX: Hey ladies! Lost that schoolgirl smoothness? Laughlines getting louder? You need Susware Home Botox! Yes at last! DYI Botox!
13. ACTING MATHIAS: Mathias Cormanegger was Acting PM while Mal Talkbull was in America conferring with the leader of the free world…and helping him wrestle his hair back from the dog.
14. DONALD VISITS KIM: President Donald Dump and North Korea's Kim Jong Nong compare hair colours, Kim with Decore Vegemite Passion and Donald with L'Oreal Yellow Snow.
15. MAL & BILL UNITE: Mal Talkbull and Bill Curly realise that the voters sent them a strong message at the last election - there's no mistaking some of the filthy drawings on the ballot papers.
16. CNN 21.3.18: Bonkaby Joyce denies being paranoid about the media attention over his love life. He's convinced that tv shows like A Current Affair and Family Feud must be about him.
17. BARNABY'S SORROWS: Ex-PM Tony Abs chats about women with Barnaby Joh in the parliament bar. Barnaby has so many sorrows to drown that he drinks from an Akubra full of beer.
18. MOTHER NATURE SUES: Judge Cranky is shocked by the horrific injuries to Mother Nature who is suing world leaders for failing to exercise their duty of care.
19. NIGERIAN PRINCE: Pauline Hatful claims she has the answer to the nation's economic woes - an email from a Nigerian prince who wants to deposit $100bn in her bank account.
20. SENATE CAPERS: Ex-Senator Jacqui Tacky returns to the Senate, upset that she was expelled before the discovery of all the sexual activities in parliamentary offices.
21. BOGAN COOKING: Davo Bogan reckons all the cooking shows on tv are the reason that people are catching obesity.
22. BILL & MINER: An Indian billionaire insists that the gigantic coal mine he wants to build will be good for the environment because it will remove lots of filthy coal from our pristine country.
23. TOUGHEST JOB: What is the toughest job in the world? Policeman? Commando? Vatican Lawyer? Surprisingly, the toughest job in the world is being one of our own politicians.
NOTE: TRACKS ON THIS ALBUM MAY HAVE BEEN PREVIOUSLY BROADCAST AND/OR RELEASED.
Copyright: All tracks and material ©2016 Triffique Productions Pty Ltd. All rights reserved. All material downloaded is copyright. Unauthorised public performance, broadcasting on any medium (including. radio), hiring, lending, re-selling or copying of this recording is strictly prohibited. All rights reserved.
You'll get 1 file (46.0MB)
More products from doug_e