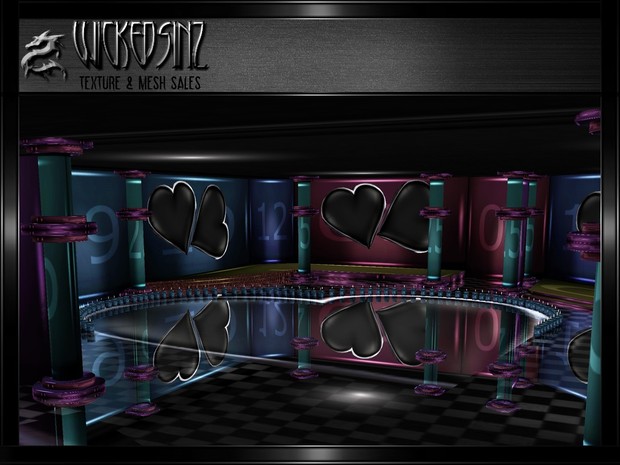 Large Valentine Room Mesh 2 - $8.00
Comes with XSF and XMF files ,
Instructions for adding XSF & XMF FIles :
1. Open create mode.
2. Derive New Project.
3. Type in 10860 or click "Example 3d Scene" under rooms and furniture.
4. Under Meshes add the XMF file ( .XMF ).
5. Add in the materials (Provided in Textures folder).
6. Click the Configurations Tab [[ Located left to the mesh tab ]].
7. Add the XSF file ( .XSF ).
8. Hit apply changes.
9. Save
VERY LARGE Valentine Room Mesh but also great for many other occasions as well such as wedding and more. Great room to add to your catalog of derivables.
RULES: (In General)Please do not sell, share or distribute these files or any part of these files in any way what so ever.
Reconstructing files, changing color, adding layers, cutting, copy paste, etc... does not make the file your own and
give you rights to resell or redistribute. These files are "generally" meant for IMVU users so if you are not an imvu developer
buy at your own risk. There are no refunds, If you have any questions regarding the files please contact me at
[email protected]
Some files are fitted for certain meshes within IMVU only. So just ask if you are unsure if the file would work for your needs.
You do have rights to edit these textures. These files are for personal use only (not commercial) or within IMVU's Catalog.
RULES : (IMVU USERS)Please use on ONE account only. If you are a WICKED SINZ VIP Member please contact me via email
[email protected]
before your purchase.
All General Rules above apply to you as well...
Please respect the rules for using my files. If you have any questions feel free to leave me a message here or via email.
Thank you so very much!
lWickedSinZl
You'll get 1 file (1.1MB)
More products from lWickedSinZl