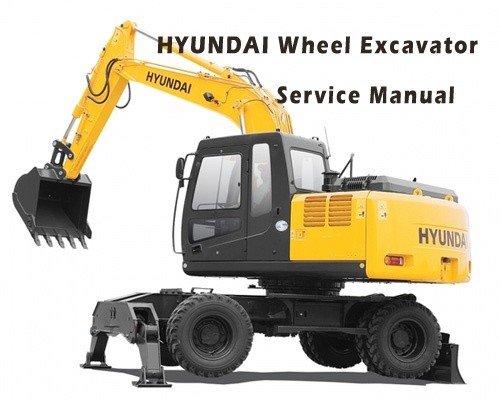 Hyundai R170W-3 Wheel Excavator Service Repair Manual Download
This is the most complete service repair manual for the Hyundai Robex R170W-3 Wheel Excavator.
This manual contains service,repair procedures,assembling,disassembling, wiring diagrams and everything you need to know.

Service Repair Manual Covers:

SECTION 1 GENERAL

Group 1 Safety Hints
Group 2 Specifications

SECTION 2 STRUCTURE AND FUNCTION

Group 1 Pump Device
Group 2 Main Control Valve
Group 3 Swing Device
Group 4 Travel Motor
Group 5 RCV Lever
Group 6 Accelerator Pedal
Group 7 Brake Pedal(Valve)
Group 8 Transmission
Group 9 Power Control Valve
Group 10 Steering Valve
Group 11 Axle

SECTION 3 HYDRAULIC SYSTEM

Group 1 Hydraulic Circuit
Group 2 Main Circuit
Group 3 Pilot Circuit
Group 4 Single Operation
Group 5 Combined Operation

SECTION 4 ELECTRICAL SYSTEM

Group 1 Component Location
Group 2 Electrical Circuit
Group 3 Monitoring System
Group 4 Electrical Component Specification
Group 5 Connectors

SECTION 5 MECHATROMICS SYSTEM

Group 1 Outline
Group 2 Mode selection System
Group 3 Automatic Deceleration System
Group 4 Engine Speed Up/Down Function
Group 5 Power Boost System
Group 6 Engine Speed Sensing Function
Group 7 Battery Charge Warning Function
Group 8 Travel Control System
Group 9 Arm Half Flow System
Group 10 Hydraulic Oil Temp Warning Function
Group 11 Automatic Warning Up Function
Group 12 Engine Overheat Prevention Function
Group 13 Self Diagnostic Display System
Group 14 Engine Control System
Group 15 EPPR Valve
Group 16 Prolix Switch
Group 17 Hyper DAT(Option)

SECTION 6 TROUBLESHOOTING

Group 1 Before Troubleshooting
Group 2 Hydraulic and Mechanical System
Group 3 Electrical System
Group 4 Mechatronics System
Group 5 Electrical System By Hyper DAT
Group 6 Mechatronics System By Hyper DAT

SECTION 7 MAINTENANCE STANDARD

Group 1 Operational Performance Test
Group 2 Major Components
Group 3 Work Equipment

SECTION 8 DISASSEMBLY AND ASSEMBLY

Group 1 Precaution
Group 2 Tightening Torque
Group 3 Pump Device
Group 4 Main Control Valve
Group 5 Swing Device
Group 6 Travel Motor
Group 7 RCV Lever
Group 8 Turning Joint
Group 9 Steering Valve
Group 10 Transmission
Group 11 Front Axle
Group 12 Rear Axle
Group 13 Boom, Arm, Bucket and Dozer Cylinder
Group 14 Work Equipment

==================================================
High Quality PDF Manual,All pages are printable.
Instant Download
No Shipping Cost
No Need to Wait For A CD-ROM


File Format: PDF
Language: English
Compatible: All Versions of Windows & Mac
Requirements: Adobe PDF Reader & WinZip
Thanks for visiting!
You'll get 1 file (66.0MB)