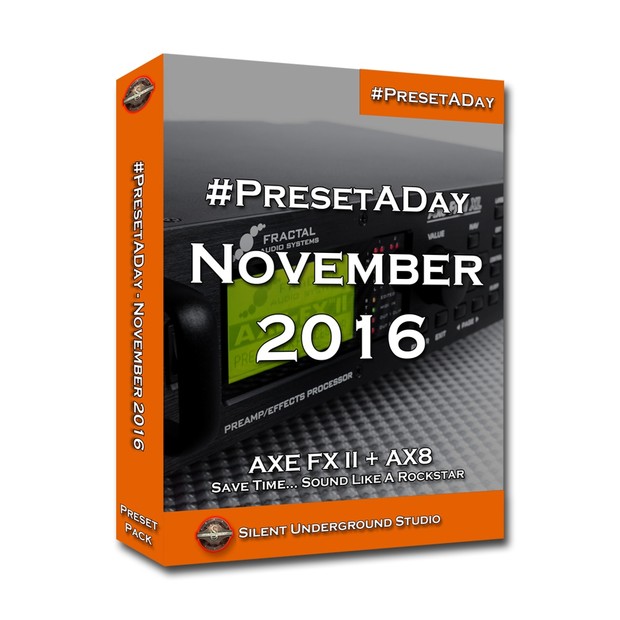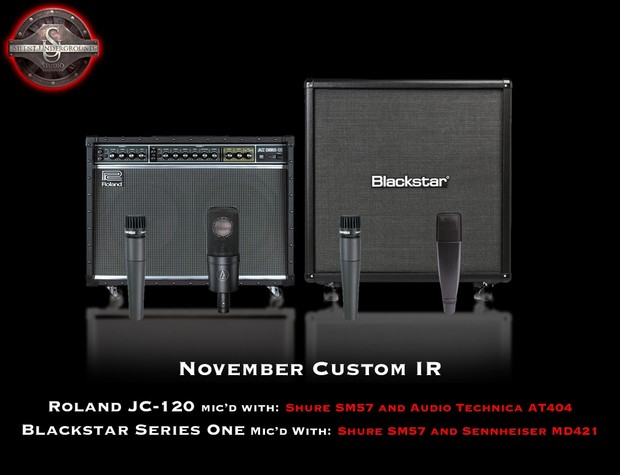 #PresetADay - NOVEMBER 2016 (FAS)
All 30 Days of November #PresetADay presets + 10 previously unreleased !!Hear the demos HERE:
https://goo.gl/FrNaAY
Set up for:
Direct to DAW, Studio Monitors, FRFR, Direct to FOH use
Firmware:
Quantum 5 or higher.
Model:
AXE FX II, AXE FX II XL, AXE FX II XL+, AX8
Cabinet IRs:
Uses a custom Cabinet IR - Included
Scene Switching: 
NA - Single Presets each with unique dedicated FX
Presets Include:
6G4 Super - FAT Clean
6G12 Concert - Envelope Filter
59 Bassguy - Clean
65 Bassguy Bass - Hot Clean
65 Bassguy Norm - Old Skool
1959SLP Jump - Clean Phase
1959SLP Norm - Clean Rotary
1959SLP Treb - Mod Verb
AC-20 12AX7 B - Mod Verb
AC-20 12AX7 T - Clean Bite
AC-20 EF86 B - Cln Delay Verb
AC-20 EF86 T - Finger Wah
AC-20 EF86 T - FuzzMod Delay
Atomica Low - Phased Delay
Band - Commander - Strat Lead
Blanknshp Leeds - Long Verb
Bludojai Clean
Boutique 1 - Phase
Brit JM45 - Clean
Buttery - Chorus
CA Triptik Cln
CA Tucana Cln - TremoChorus
CA3+ Clean - Pop Clean
Cameron CCV 1A - Rotary Verb
Capt Hook 1A - Delay Swell
Car Roamer - Multi Delay
Citrus A30 Cln - Chorus Flanger
Citrus RV50 - Grungeverb
Class-A 30W Brt - Delay Phase
Deluxe Tweed - Asylum
Deluxe Verb Normal - Flanger
Dirty Shirley - Clean Clip
Div_13 FT37 Lo - Big Verb
Jazz 120 - Flanger
Jazz 120 - Stero Chorus
Solo 100 - Stereo Chorus
Tweed - Rotary
Tweed - Stereo Pan
USA Clean - Chorus Phase
Vibrato Lux - Clean Lead
Please Note:
All November presets require our custom #PresetADay Cabinet IR. Included for FREE. The cab is the same for each preset so no need to reload the IR if you have already downloaded another preset this month.
The Cabinet IR is a custom blend of a Blackstar Series one 4x12 with Vin 30 speakers mic'd with a Shure Sm57 and a Sennheiser MD421, with a Roland Jazz Chorus mic'd with a Shure SM57 and an Audio technica AT4040
Disclaimer:
Please first know HOW to use your hardware / software BEFORE purchasing our products. They are made to work in any standard AXE FX II / AX8 setup without the need for additional external processing. No refunds are given on digital products.
$20
You'll get 1 file (2.0MB)
More products from Silent Underground Studio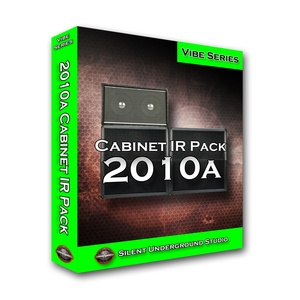 50% OFF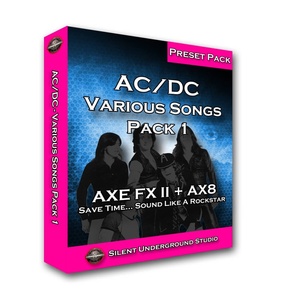 50% OFF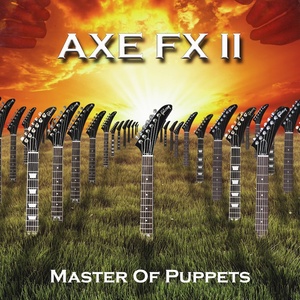 25% OFF