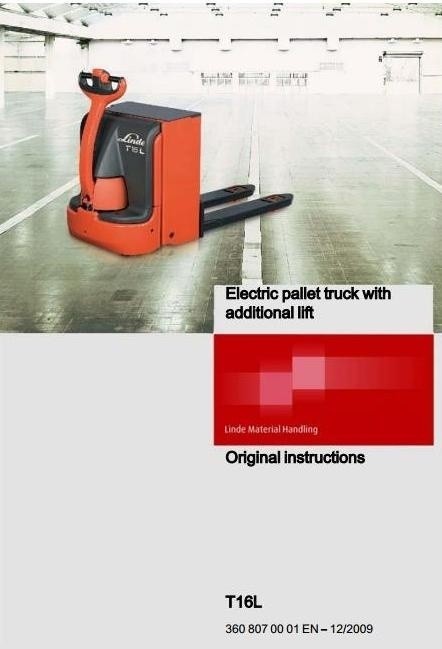 Linde Electric Pallet Truck Type 360: T16L Operating Instructions (User Manual)
Original Illustrated Factory Operating Instructions (User Manual) for Linde Electric Pallet Truck Type 360.

Original factory manuals for Linde Forklift Trucks, contains high quality images, circuit diagrams and instructions to help you to operate and repair your truck

Covered models:
T16L

Format: PDF, 105 Pages
Language: English

Contents:

1. Introduction
Your Linde truck
Impermissible use
Description of use and climatic conditions
Specific use of the truck
Symbols used
Technical description
EC declaration of conformity
2. Safety
Residual risks
Stability
Safety regulations
Handling consumables
Periodic general checks on trucks
3. General views
Plates and labels
General view T16L type 360
T16L type 360 controls
Combined hour meter / battery discharge indicator
4. Use
Operating instructions
T16L driving
Braking system, horn
Use of the truckonaslope
Using the lifting device / T16L capacity
Handling loads
Slinging, lifting, towing the truck
5. Maintenance
Maintenance
Technical inspection and maintenance characteristics
Recommended lubricants
Daily checks before starting work
Checkingthedirectioncontrols
Checking the lift/lower controls of the fork arms
Checking the lifting/loweringcontrolsofthemast
Checkbraking
Testingthesafetydevices
Checking the battery chargestatus
Opening the battery cover . .
Connect / disconnect the battery plug
Charging the battery with thebuilt-incharger
Rechargingthebatterywithanexternalcharger
Checking the condition of the cables, terminals and battery connector . .
Specific mast maintenance
Service plan as required
Cleaning the truck
Cleaning the battery and battery compartment
Battery maintenance
Battery with vertical access
Wheels, check the fixing
Wheels, check the state
Opening the front cover
Pull the flexible coverclear to access the reduction gearbox and the motor
Checkingthefuses
Inspection and maintenance overview
Service plan as required
500h Service plan
1000h Service plan
2000h Service plan
Traction motor
Inspection/replacement of the traction motor brushes
Gearbox
Transmission:checking the oil level in the reducer
Steering / braking / wheels
Checking and adjusting the brake control
Checking and adjusting the belt tension
Adjusting the height of the stabiliser wheels
Electromagneti cbrake, controlling the tiller foot pull switch
Electrical equipment
Electrical system: checking the condition and fastening of electrical cables and con
nections
Cleaning the electrical panel
Hydraulic circuits
Checking the hydraulic fluid level
Draining the hydraulic circuit
Lift mast
Work on the liftin gmast
6. Technical specification
Datasheet T16L type 360

Annex
7. Diagrams
Circuit diagram for T16L type 360
Hydraulic diagram for T16L Type 360 .
You'll get 1 file (9.3MB)