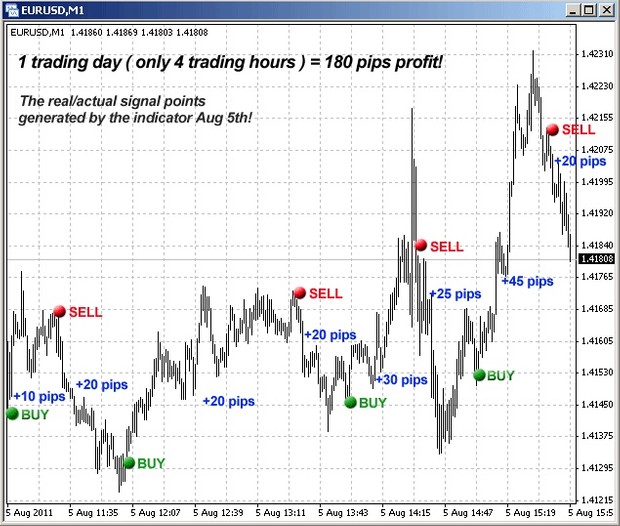 100 PIPS Dially scalpper
Important: This is a brand new SCALPING indicator, never seen before on the market! This is something very special! Why?:
Because we have used a brand, new never seen before secret combination of Forex tools and indicators together - that removes a major problem of SCALPING - most
of the FALSE SIGNALS!Unlike other indicators you do not have to sit in front of your PC all day waiting for a signal to be generated. Everything is done -  buy sell popup alert, email alert + Blue line BUY, Red line SELL will be printed on your screen! You can configure the "100 Pips daily scalper" to Email you when a signal is generated. That's right, get signal alerts straight to your phone or work Email automatically.  It also works on ANY currency pair so you can always have signals coming your way no matter what markets are open
My new scalping indicator made an insane % NET PROFIT with virtually no risk. This is going to blow you away. Trading the forex market has always been insanely profitable. After all… what other income method allows you to bring you in thousands of dollars from a single trade. Certainly none of them that I know. But let's face it, until now, scalping can be risky.  You see… I just released something that's going to change the Forex world as we know it today. "100 pips daily scalper"

Seasoned traders will tell you, there is no "Holy Grail." I strongly disagree. It is true there is no perfect scalping robot, but there can be a perfect scalping buy sell signal indicator
with advanced FALSE signal filter!Wouldn't the wonderful world of trading just be so much simpler if somebody could create a holy grail indicator which would tell you exactly when to enter the market and when to close your trade? Life would be simpler wouldn't it? There would be no stress and all the hard work is done for you. Well, traders have been trying to accomplish this since the beginning of the markets. There have been countless indicators that have been created to try to accomplish this feat. None have been successful... until NOW!

The major problem with these "holy grail" trading indicators are that they are using historical and lagging studies. These studies tell a trader what has already taken place. These "after the fact" indicators cannot provide the same intuitiveness of the market as trading based on price action.
Technical indicators take too much of the "feel" away from traders.
  
You'll get 1 file (224.5KB)
More products from MYDIGITALSTORE