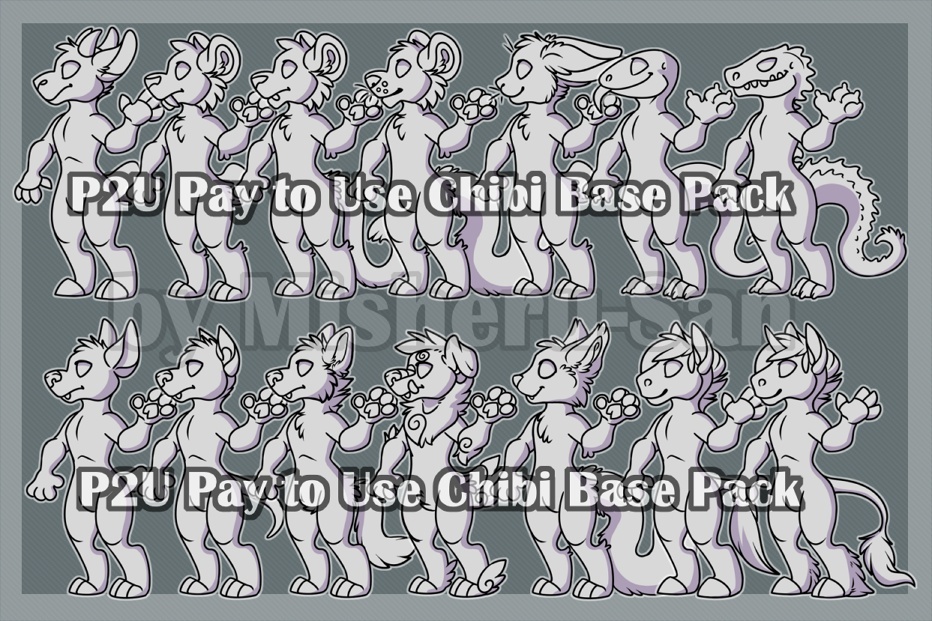 Chibi Base Pack
Upon buying, you will receive a Zip (compressed) Folder that contains the PSD and PNG files of 14 Chibi Anthropomorphic Animal characters (front view only)
Each on a separate file. 
Species Include:
Goat, Saber Cat, Big Cat, Snow Leopard, Bunny, Lizard, Crocodile, Doberman, Pit Bull, Wolf, Foo Dog, Red Panda, Horse, and Unicorn.
Requirements:
- A program that can open a .psd or PNG file format.
- Basic understanding of layers.
Rules for use:
- Do Not redistribute or share these files with anyone else, even if they have claimed to have bought it.
- You may use these bases for adoptables and commissions.
- Always credit me, Misheru-san, as the artist for the line art by linking back to my page or including one of the links below:
     https://sellfy.com/misheru-san     http://www.furaffinity.net/user/misheru-san/      http://misheru-san.deviantart.com/Please be respectful to me and do not abuse this base. In General, please be cool, don't abuse any of my bases.
You'll get a 11.3MB .ZIP file.
More products from Misheru-san