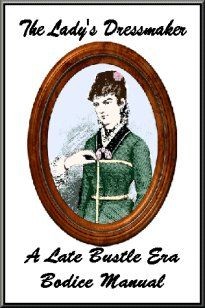 Late Bustle Era Bodice Drafting book
Pattern Making: Late Bustle Era Bodice.
Making the 1880's bodice for the Living historian/reenactor. Are you frustrated with available patterns? Do they never fit? Do you even wonder if they are made on correct lines?

This book is for the intermediate to experienced seamstress who would like to make an 1880's bodice that really fits them.
Most bodices from the 1880s are built on the same foundation
with minor changes in decoration and closures, so by creating a personal sloper
and doing a bit of research, you will have hundreds of patterns at your fingertip.
Never again show up as a cookie cutter creation at a living history event or reenactment.

We will be using your own measurements to create a personal 1880's sloper with flat pattern methods.
This direct measure system was developed by myself using both modern drafting techniques and period dressmaking systems so as to give a historical cut that fits the modern body.
You will take measurements, draft a paper pattern, make muslin and discover how to turn the basic garment into the bodice of your dreams.
You'll get 1 file (7.9MB)
More products from Marna Davis