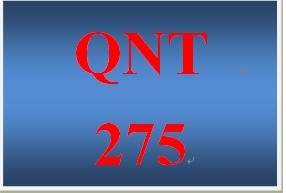 QNT 275 Week 2 Participation Measuring Central Tendency and Variability
QNT 275 All Participations Link
https://uopcourses.com/category/qnt-275-participations/
QNT 275 Week 2 Participation Measuring Central Tendency and Variability
Watch the "Measuring Central Tendency and Variability" video.
Consider the following as you watch:
Define the three standard measurements of the central tendency and provide example of each.
Explain when you might want to use a median number. 
Provide an example.
Define a standard deviation and what a standard deviation shows, provide an example.
You'll get 1 file (19.8KB)
More products from UopTutorialStore