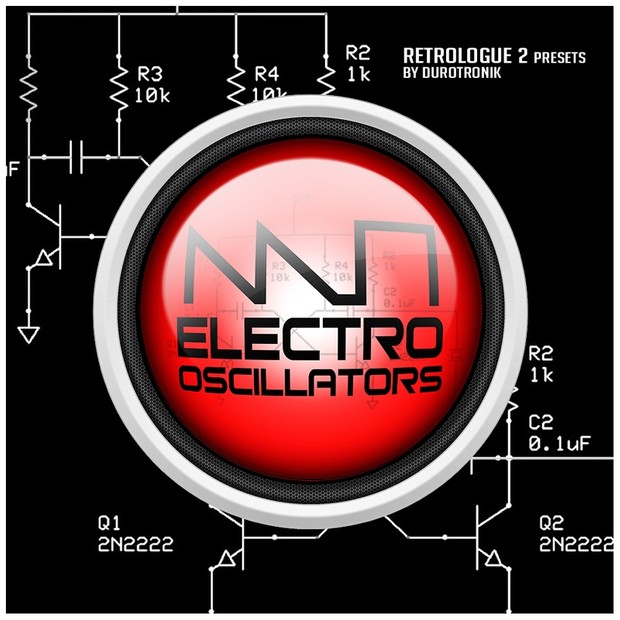 Electro Oscillators
You are buying presets for Retrologue 2 Vistual Analogue Synth which is part of Cubase 8.5
Electro Oscillators Synth Presets
Synth: RETROLOGUE 2
Presets: 112
Programmer: Salvador Peláez /Durotronik
www.durotronik.com
Thank you for your purchase of Electro Oscillators. These presets were programmed with Retrologue 2, 64bit and were also loaded and tested in the 32bit install. Retrologue 2 is part of Cubase 8.5 Electro Oscillators was not tested with Retrologue 1 nor its guaranteed to be compatible since new features were added to these presets.
Installation is simple. Just find your VST 3 presets, Steinberg Media Technology, Retrologue 2 presets folder and paste the Electro Oscillators folder there. You can aslo Scan with Media Bay. When loading a preset in Retrologue, I have the Location Tree checked so that I can see the individual banks and sellect which one I want to load from. There you will see your Electro Oscillator preset bank folder.
Keep This In Mind:
This library is not linked nor affiliated with Steinberg Media Technologies GmbH. Steinberg is not responsible of any updates to this library. This library was created by yours truly and it's your responsability to keep this bank of presets safe.Hope you enjoy these presets and they may inspire you in some way."All sales are final"
All the best,
Salvador Peláez
Producer/Engineer
www.pristinestudio.com
www.durotronik.com
You'll get 1 file (535.9KB)
More products from 8900293357762485