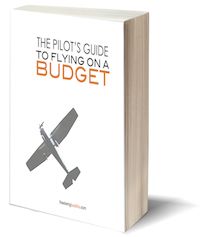 The Pilot's Guide To Flying On a Budget
This e-book will really help those who use it and take the advice therein. It addresses the high cost of flying head-on and it's completely agnostic to the type of general aviation flying you are doing (or would like to do in the future).

The goal is simple, share best practices to make general aviation as inexpensive as possible without sacrificing safety or regulatory compliance.

I have tried to organize it in a way that allows you to target your particular area such as learning to fly, renting aircraft, airplane ownership, etc.

At roughly the cost of an annual magazine subscription, you will recoup your investment almost immediately upon employing the strategies provided.

Good luck and enjoy the journey!

You'll get a 606.6KB .PDF file.