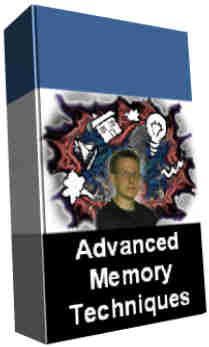 ADVANCED MEMORY TECHNIQUE'S
A COURSE IN TECHNIQUES AND SKILLS FOR MENTALISTS, MAGICIANS AND STUDENTS
IDEAL for…Students, improve your grades with less effort!
Any stage mentalist or magician by establishing credibility of amazing skills with an easy to follow instructional book on using the amazing power of your memory...
After just five minutes of reading the first few pages of this book you will have the skills to memorise and recall a list of 10 items forwards, backwards, or at random, and with very little practice be able to do so in under 20 seconds This book crams 8 different techniques, including additional information on study skills, and suggestions for your power memory to start working, and how to use a unique and never before revealed technique of virtual mindmapping* - which I personally use for memorising huge amounts of information without ever lifting a pen!
Exciting News – All Our Products Now Come with Real Live Personal Assistance and Support Included at No Additional Cost.
Our Products and Courses were already the Most Comprehensive and Best Value for Money, whilst also being Unique and Unrivaled in all manners, but now things just got even better for you all...
http://tinyurl.com/qz3q8e7
You'll get 1 file (493.0KB)