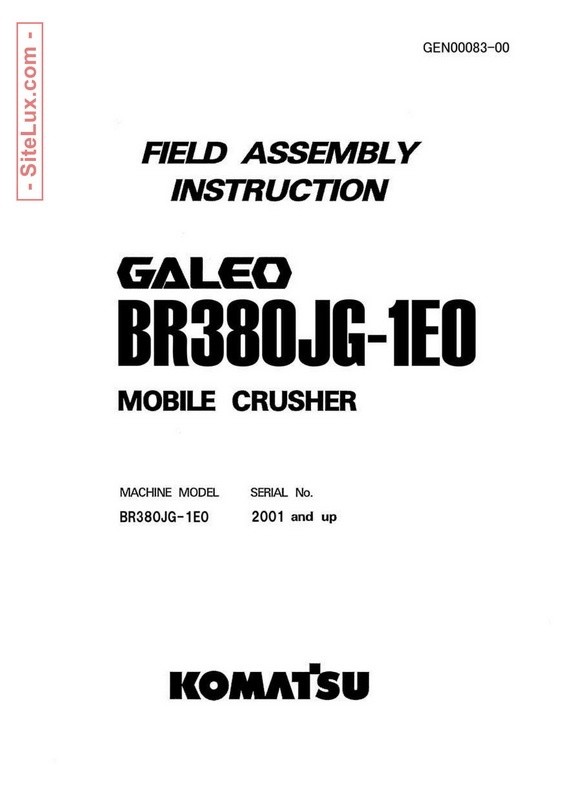 Komatsu BR380JG-1E0 Galeo Mobile Crusher Field Assembly Instruction - GEN00083-00
This is a COMPLETE Field Assembly Instruction for the Komatsu BR380JG-1E0 Galeo Mobile Crusher, provides you with everything you need to know in order to assembly your Komatsu safely and effectively. Step-by-step assembly procedure, parts installation, adjustment and maintenance procedure after completion of assembly.
APPLICABLE MODELS :
Komatsu BR380JG-1E0 Galeo Mobile Crusher
Serial Numbers : 2001 and up
TABLE OF CONTENTS :
- SPECIFICATIONS
- PRECAUTIONS FOR FIELD ASSEMBLY
- PACKING POSTURE FOR TRANSPORTATION
- LIST OF SEPARATELY SHIPPED PARTS
- LIST OF TOOLS FOR FIELD ASSEMBLING
- TIGHTENING TORQUE
- COATING MATERIALS LIST
- A. ASSEMBLY PROCEDURE
- A-1. Setting of machine
- A-2. Installation of feeder hopper (1/5 – 5/5)
- A-3. Installation of belt conveyor (1/9 – 9/9)
- A-4. Installation of magnetic separator assembly (1/2, 2/2)
- A-5. Installation of mirrors (1/3 – 3/3)
- FIELD ASSEMBLY INSPECTION REPORT
MANUAL SPECIFICATION :
File Format : PDF
Language : English
Total Pages : 51
Bookmarked : Yes
Searchable : Yes
Printable : Yes
Part Number : GEN00083-00
This page sometime can be found use following keyword : service manual, repair manual, workshop manual, technical manual, owner manual, operating manual, maintenance manual, parts manual. Please make sure you read and understand the title of this manual before decided to buy.
More Info :
https://www.sitelux.com
You'll get 1 file (2.7MB)