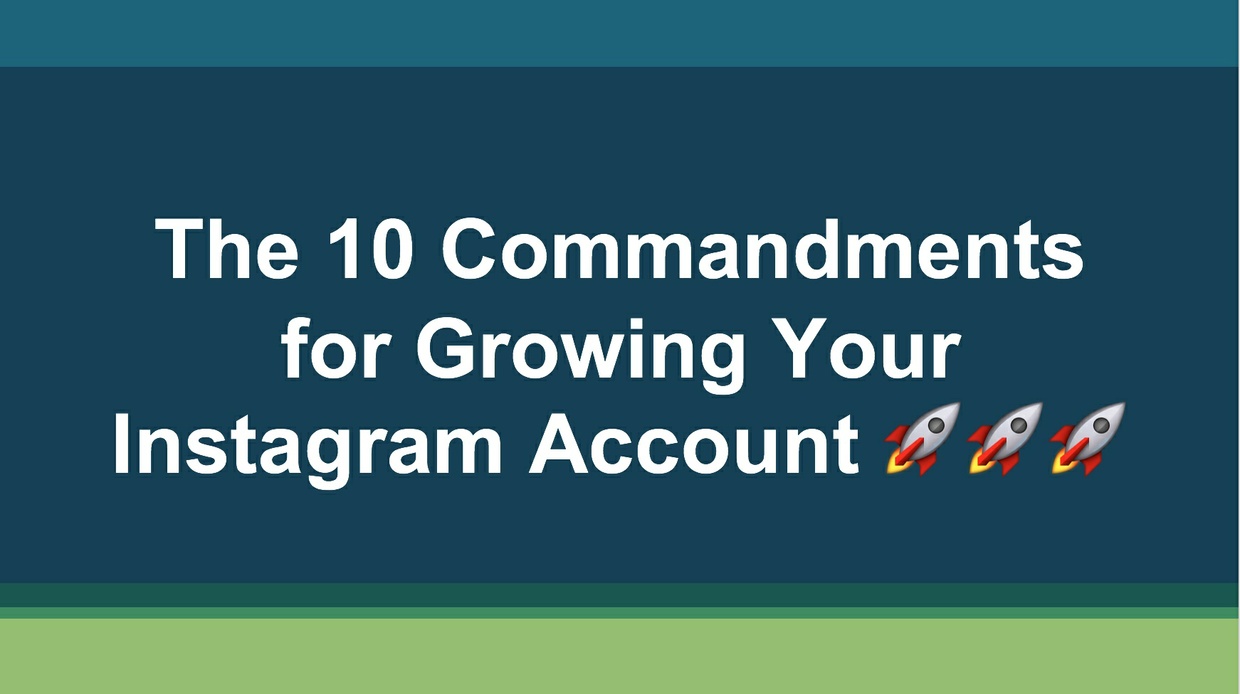 IG Growth Kit: The 10 Commandments for Growing Your Instagram Account
About two years ago I decided to get serious about Instagram. I had 500 followers, and content that I thought was interesting, but for some reason couldn't grow my following. Fast forward two years later -  I've grown my personal instagram to over 20k followers: 
https://www.instagram.com/justinrgerrard/
, used these lessons to grow my own business:
https://www.instagram.com/bae_app/
 and now create, grow and sell Instagram accounts for fun.
After a few years of doing this, and a number of friends asking how it's done, I decided to put this Kit together for individuals who want to either grow their existing business/personal account, start a niche account, or just have some fun (for me it started out as a bit of fun that then resulted in making some pretty good money  doing promoted posts).
So…what is this
: The kit a practical step-by-step guide for growing your Instagram following.  You'll learn all the basics like what content to post, how to identify your niche, how to drive the most engagement, and all of the best tools out there that actually work. 
What this isn't:
This is not a "cheat code" for hacking Instagram growth. The strategies work extremely well, but take time and consistency to implement. There is no finger snapping solution for building up a REAL Instagram following. If you want hundreds of thousands of followers, without doing any work at all, just buy followers. But, if you do that, here are a few things you should also know: 1. Everyone who visits your page will be able to tell that they're fake. 2. It's pointless because you won't be able to sell them anything or get any other value.
Click the Buy Now Link to PurchaseSo what's inside:
Inside you'll find all of the strategies for increasing your IG following and sales including:


How to define your niche/ business and the importance of consistency




The FREE tools you can downland to successfully identify the best potential followers/ customers for your page




How to get people to take a desired action on your page




How to successfully run competitions on your page




How to effectively use hashtags to get new followers through the explore page




How to optimize your bio to create a strong first impression




How to drive retention of followers through individual interaction




How to strategically leverage emojis for increased engagement




The importance of Instagram stories and how to curate interesting and authentic content




How to use shoutouts with other pages to grow each other's accounts


and...A FREE gift 
What are you waiting for!? It's time to take your IG account to the next level!
Click the Buy Now Link to Purchase
Need more information on me or my background, check out these links:
Instagram: 
https://www.instagram.com/justinrgerrard/
Linkedin:
https://www.linkedin.com/in/justin-gerrard-82233811/
TechCrunch:
https://techcrunch.com/2016/03/25/student-founder-turns-down-microsoft-and-google-to-build-bae-an-app-for-black-singles/
Fast Company:
https://www.fastcompany.com/3066795/bae-the-top-dating-app-for-black-singles-is-going-global
Or shoot me an email:
[email protected]
Looking forward to hearing from you - keep pushing!
You'll get a 1.3MB .PDF file.