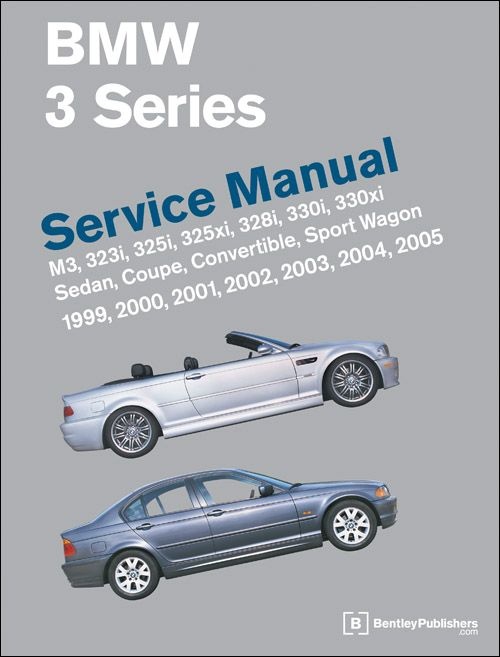 BMW 3 Series E36 Service Repair Manual 1992-1998
You are looking at the Bentley's BMW Service Manual - 3 Series (E36) 1992-1998. Bentley BMW service manuals provide the highest level of clarity and completeness for all service and repair procedures. Enthusiasts, do-it-yourselfers, and professional technicians will appreciate the quality of photos and illustrations, theory of operation, and accurate step-by-step instructions. If you're looking for better understanding of your E36 BMW, Bentley is the recommended choice of all BMW enthusiasts. 
 
3 Series models and engines covered:
318i/is/iC
(M42 - 1.8L engine)
(M44 - 1.9L engine, OBD II)
323is/iC
(M52 - 2.5L engine, OBD II)
325i/is/iC 
(M50 - 2.5L engine)
328i/is/iC 
(M52 - 2.8L engine, OBDII)
M3 
(S50US - 3.0L engine) 
(S52US - 3.2L engine, OBD II) 
 
Transmissions covered:
 
Manual (remove, install, external service) 
Getrag S5D 250 G 
Getrag S5D 200 G 
ZF S5D 310 Z 
ZF S5D 320 Z 
 
Automatic (remove, install, external service) 
A4S 270 R 
A4S 310 R 
A5S 310 Z 
 
Features: 
Maintenance procedures for everything from brake fluid changes to resetting the Service Indicator. This manual tells you what to do and how and when to do it. 
Engine and cylinder head service, repair, and reconditioning, including camshaft timing chain setup and adjustment. 
Information for specific BMW 3 Series driveability problems, including explanation of engine management systems and OBD (On-Board Diagnostics). 
Theory of operation and repair information for DISA (Dual Resonance Intake System) on 4-cylinder engines and VANOS (Variable Valve Timing) on 6-cylinder engines. 
Drivetrain maintenance, troubleshooting, adjustment and repair, including hydraulic clutch, gearshift linkage, and driveshaft. 
Heating and air conditioning repair, including A/C component replacement. 
Body adjustments and repairs, including convertible top replacement and adjustment. 
Wiring schematics for all circuits, including power distribution, grounds, and component location illustrations and photos. 
You'll get a 33.8MB .PDF file.