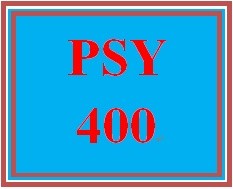 PSY 400 Week 4 Group Influence
Entire Course Link
https://uopcourses.com/
https://plus.google.com/u/0/108200033792883877670/posts/dWT4sDYbQKM
 PSY 400 Week 4 Group Influence 
In this assignment, you will identify and describe group process through in vivo observation.
Complete the assignment as detailed in the Group Influence document.
Click the Assignment Files tab to submit your assignment.   
Attended and observed meeting approved in Week 2  
Described how the meeting was set up and conducted  
Explained the purpose of the meeting  
Analyzed how the attendees interacted  
Applied theories of social psychology to observations of norm formation, groupthink, group norms, conformity, and/or social influence  
Integrated findings with a minimum of 3 scholarly references (the peer-reviewed journal articles.  
1,050 to 1,400 words     
The content is comprehensive, accurate, and/or persuasive.  
The paper develops a central theme or idea, directed toward the appropriate audience.
You'll get 1 file (51.0KB)