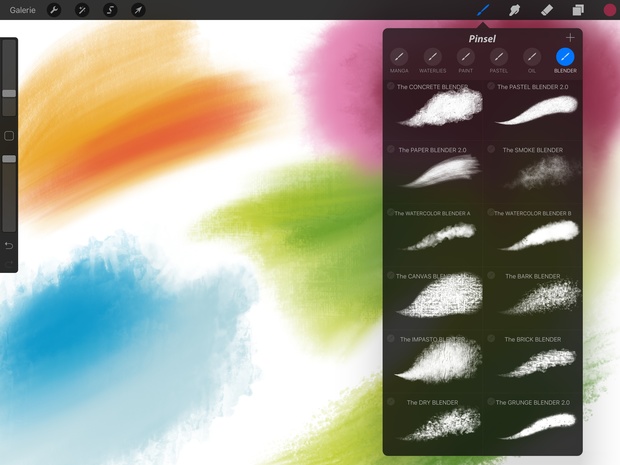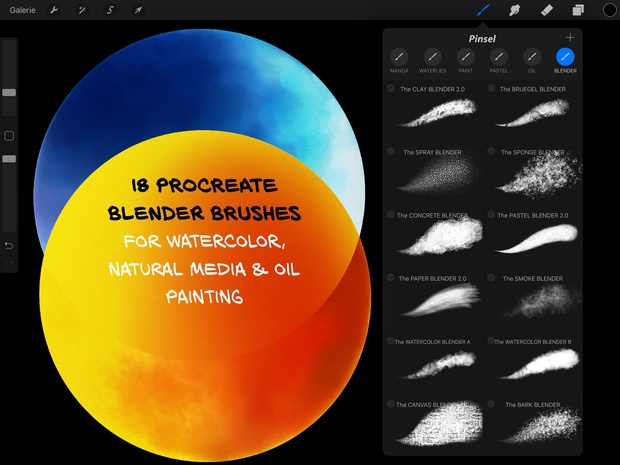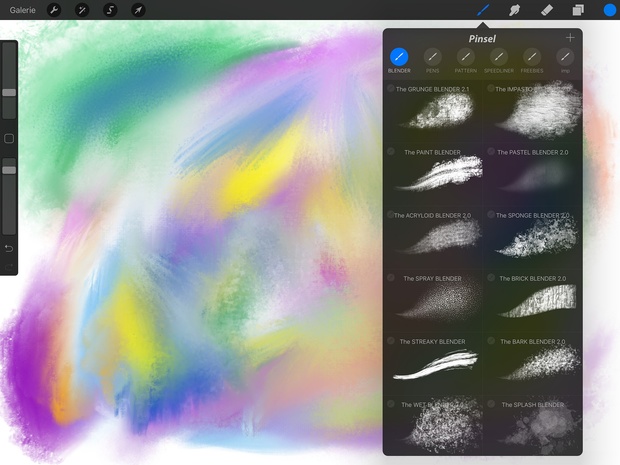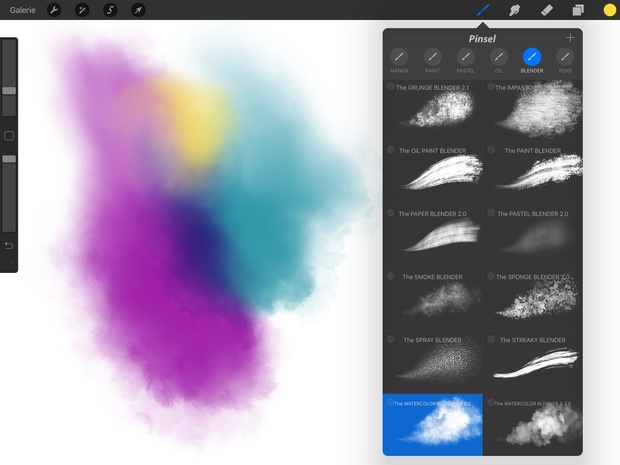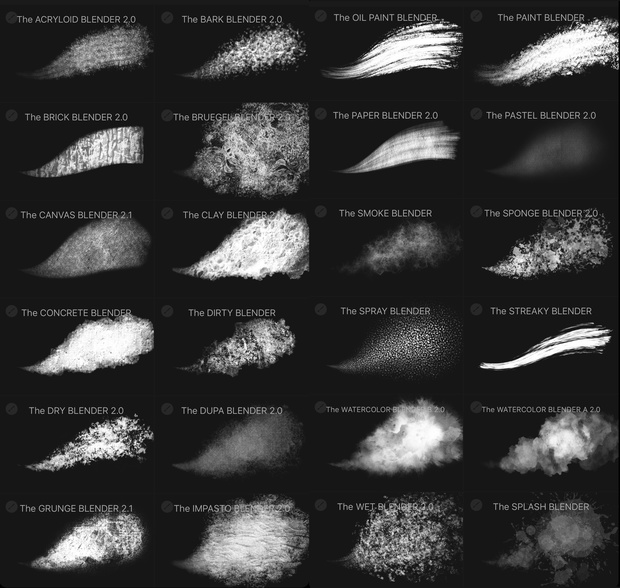 24+ Procreate BLENDER Brushes for WATERCOLOR, PASTEL & OIL PAINTING
This versatile BLENDER set contains more than 24 painterly blending brushes with seamless natural media textures.
It's great for watercolor, pastel and oil painting as well as a fun way to apply paper, canvas, grunge and other textures to your artwork.
To various degrees, the color runs out at the end of each stroke. If you keep on painting without lifting your finger/stylus, you can blend the colors and apply textures to your drawing.
This Procreate brush set includes:


The ACRYLOID BLENDER


The BARK BLENDER 2.0


The BRICK BLENDER 2.0


The BRUEGEL BLENDER


The CANVAS BLENDER 2.1


The CLAY BLENDER 2.0


The CONCRETE BLENDER


The DIRTY BLENDER


The DRY BLENDER


The DUPA BLENDER


The GRUNGE BLENDER 2.0


The IMPASTO BLENDER


The IMPRESSIONIST BLENDER


The OIL PAINT BLENDER


The PAPER BLENDER 2.0


The PASTEL BLENDER 2.0


The SMOKE BLENDER


The SPONGE BLENDER 2.0


The SPRAY BLENDER


The WATERCOLOR BLENDER A


The WATERCOLOR BLENDER B


The WET BLENDER


TIPS


Check the FAQ and follow step-by-step tutorials for downloading and importing your new brush sets into Procreate: http://procreate-brushes.com/tagged/faq


All brushes can also be used as eraser as well as smudge tools to achieve a consistent look & feel


Remove grain or reduce jitter if you prefer a cleaner brush and blending strokes


Adjust the streamlining setting (stroke correction feature) to fit your style


Play with opacity, try out pressure, tilt and speed sensitivity to use my brushes to their full potential


Check out the "How to use the blending brushes" section in the instructions (PDF) for additional tips.


UPDATES
All future updates of this set will be included for FREE with your purchase!


[01-02-2017] 12 BONUS BLENDING brushes added


[01-05-2017] 3 BONUS BLENDING brushes and optimized 2.0 versions added


[01-10-2017] New OIL PAINTING and WATERCOLOR blending brushes added


BEST DEAL

Get this set plus 290+ custom made brushes and free updates with my Procreate MEGAPACK:
https://sellfy.com/p/Z1ae/


REVIEWS & FEEDBACK
Here's what other artists are saying and creating with my brushes:
http://procreate-brushes.com/tagged/reviews
If you have any questions or problems using the brushes, just drop me a line.
I hope you enjoy the blending brushes and wish you lots of fun using them!
Happy Blending,
Georg
Didn't find what you're looking for?
If there are any Procreate brushes you're missing or you're looking for a custom-made brush set, feel free to contact me for a quote. For MEGAPACK owners I offer a 50% discount to all custom made brushes and tools.
---
NOTE: The brushes are designed exclusively for Procreate (iOS App). A pressure sensitive stylus is recommended to take full advantage of the brushes, but not necessary.
$5
You'll get 1 file (40.5MB)
More products from Georg's Procreate Brushes