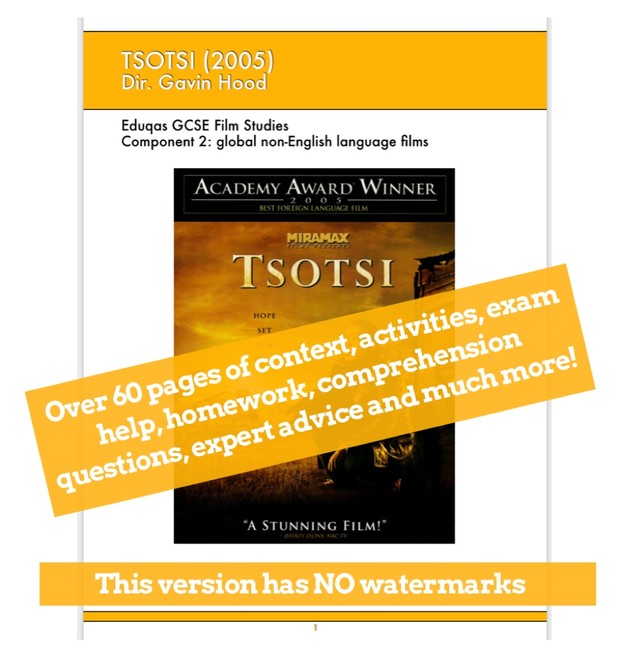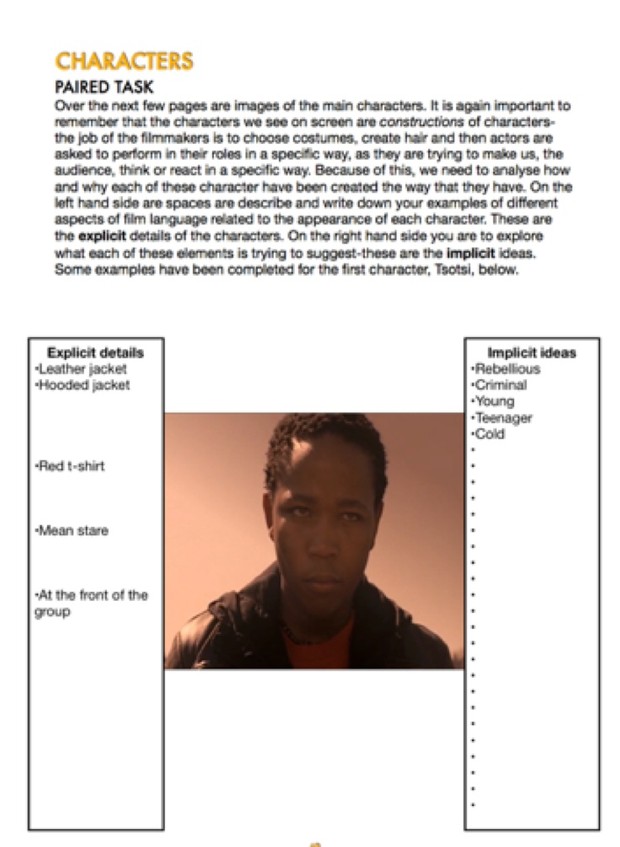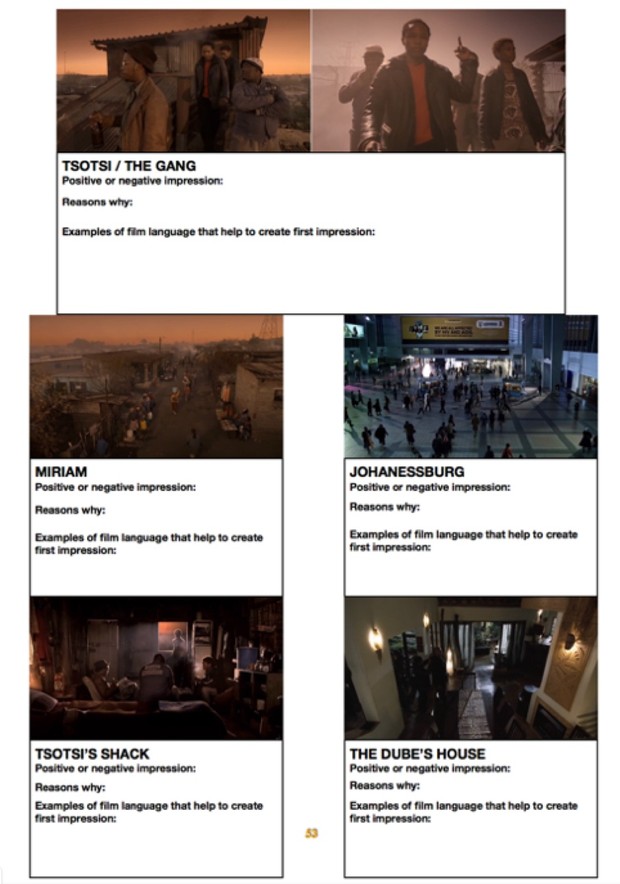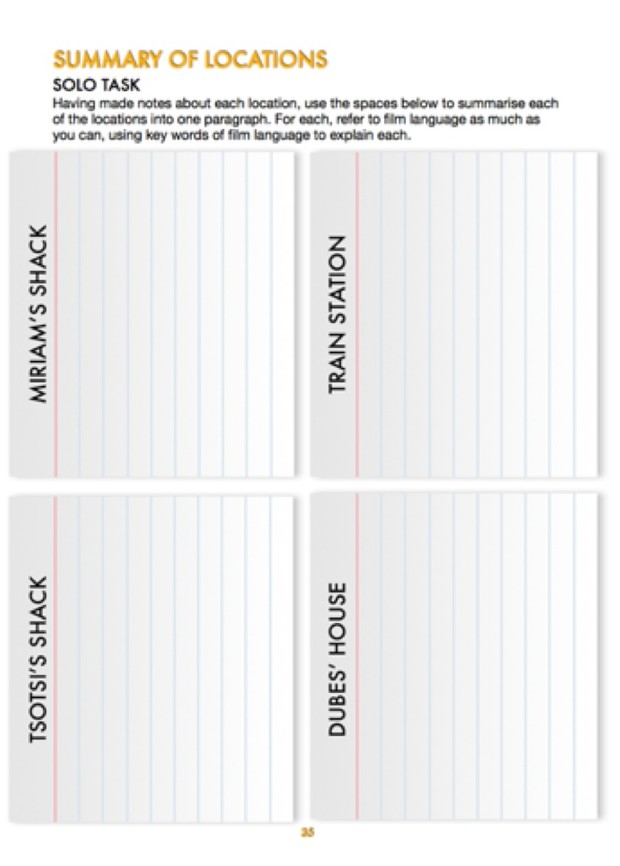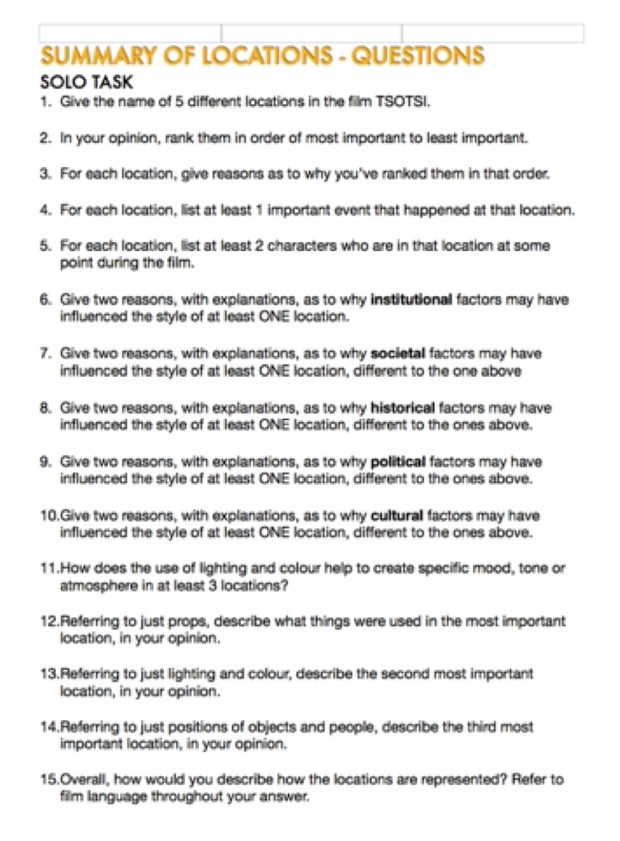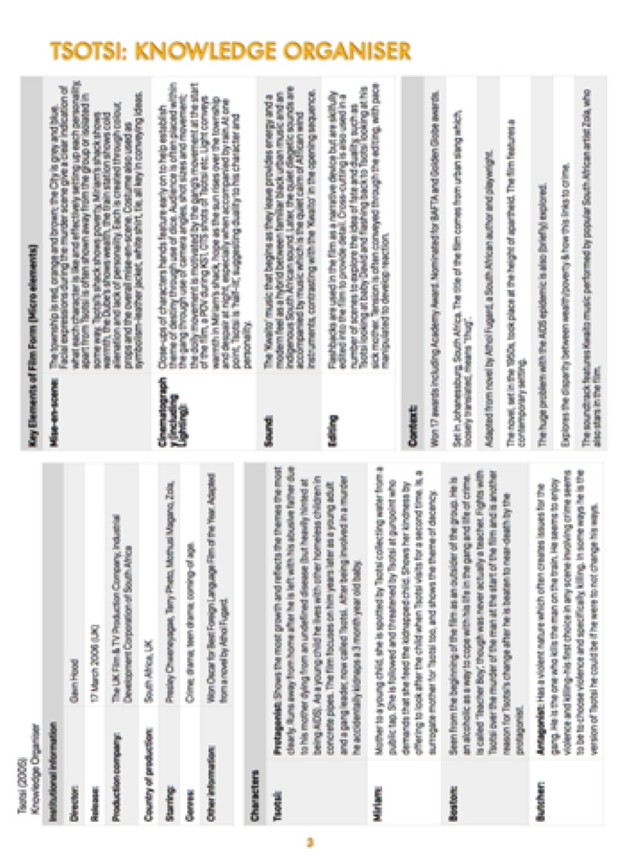 Tsotsi GCSE Film Studies Scheme of Work / Revision book / viewing guide
A comprehensive scheme of work with over 60+ pages of detailed information and activities, designed to support in teaching Tsotsi for WJEC/Eduqas GCSE Film Studies. This version comes with 2 PDF versions as well as editable versions in Word and Pages format.

Written by an experienced examiner and consultant, this booklet on Tsotsi, directed by Gavin Hood in 2005, provides a huge range of activities. Some of the work includes: the context of South Africa, including details on apartheid, key facts and information on the making of the film, systems for keeping notes during watching with templates using the Cornell notes system. There are also in-depth details on key scenes, dozens of screenshots from the film as well as images from other relevant areas that have influenced the film. There are also dozens of activities for students including mock exam questions, comprehension questions on location, characters and more. PLUS: guidance on how to analyse scenes from the film using hexagaonal learning and summary sheets to help with revision. Key scene analysis include links to the specific scenes or extracts, hosted permanently on YouTube, so you don't even need a copy of the film to complete some of the tasks-again, perfect for students to complete! Many of the tasks have also been designed to be peer or self-assessed and there is a wide variety of solo work, paired work or group work catered for, with each activity described in detail at the beginning of each task. 

On here you'll find three different versions, each with the same content. This version is a PDF version priced at £3.50 has no watermark on any page. The slightly more expensive version has a 'name your price' price structure but is just £1.50 more and contains Microsoft Word and Mac OSX Pages versions so that you can edit and do as you like and with it. Also included are 2 unmarked PDF versions, both high-quality versions and a 'compressed' version with a tiny file size, but slightly reduced quality in images. 

This guide has been written so that it can be used in a variety of ways; print and use as a ready-to-go scheme of work in a booklet. Maybe give to students as a detailed homework that can be completed alongside your own classroom work. It also works great for revision, either with individual task printed or again, as a whole booklet. Try printing individual pages as starters or plenaries, or even using the tasks as engaging resources for lessons built around key ideas of your own. 

This guide / ebook is designed to help in the delivery of GCSE Film Studies, focusing on Component 2 Global Film. This guide focuses on the key aspects of Representation and film language, as per the Eduqas Specification.

Many thanks for taking a look and for any future purchases!
You'll get 1 file (2.3MB)