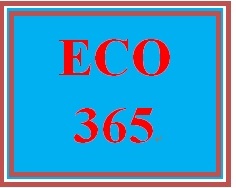 ECO 365 Week 5 participation Principles of Microeconomics, Ch. 21: The Theory of Consumer Choice
Entire Course Link
https://zh.scribd.com/document/340327850/Uop-Tutorial
ECO 365 Week 5 participation Principles of Microeconomics, Ch. 21: The Theory of Consumer Choice 
Read Ch. 21 of Principles of Microeconomics:   
21-1 The Budget Constraint: What the Consumer Can Afford, pp. 436-437  
21-2 Preferences: What the Consumer Wants, pp. 437-441  
21-3 Optimization: What the Consumer Chooses, pp. 442-449  
21-4 Three Applications, pp. 449-456  
21-5 Conclusion: Do People Really Think This Way?, pp. 456-457  
Consider the following as you read:   
The theory of consumer choice.  
Consider the term the Ten Principles of Economics and how it's applied to the consumer buying trends.  
Consider the theory of consumer choice and how it consumers facing trade-offs make decisions and how they respond to changes in their environment.  
Consider for thought the following questions:    
Do all demand curves slope downward?  
How do wages affect labor supply?  
How do interest rates affect household savings? 
You'll get a 32.0KB .DOC file.
More products from UopTutorials