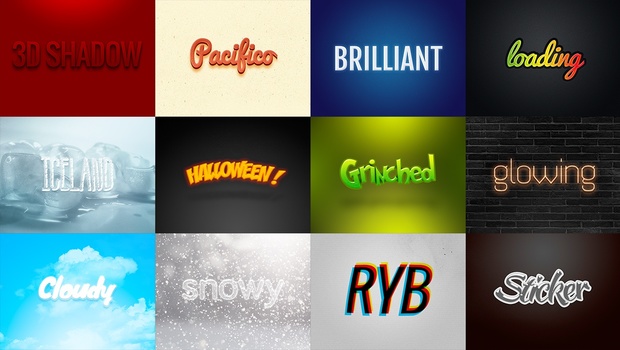 14 Photoshop Professional text effects / 14 efectos profesionales de texto para Photoshop
Visit
http://www.thestarterkit.info/
for +300 awesome online resources, freebies and tools for visual designers and developers! 
Just make a few clicks to adapt these effects to your own words. Watch the video to see how it works!
https://www.youtube.com/watch?v=PWmjFgxepNo
ZIP file contains 13 completely customizable PSD files with all the text effects, preview JPG files and a readme.txt. Open readme file to see which fonts you will need to edit text layers.
Thanks for your support!
Note: Effects are not ASL files. Some effects are complex, not easy to achieve using simple layer effects. Anyway you will find that editing text layers and using them in other files is a piece of cake. The PSD files are compatible with Photoshop CS6 & CC. We haven't tested CS5 and CS4 versions yet but they should works well.
------------- Versión en Español -------------
Visita
http://www.thestarterkit.info/
para tener acceso a nuevas actualizaciones, más de 300 recursos online increíbles, freebies y herramientas para diseñadores y desarrolladores! Y si quieres aún más contenidos:
http://www.criteriondg.info/
En el archivo ZIP encontrarás un readme.txt incluyendo las tipografías necesarias, 13 archivos psd a 800x600 y diferentes jpg de previsualización.
Quieres ver lo simple que es usarlos? Descúbrelo en este video:
https://www.youtube.com/watch?v=PWmjFgxepNo
Gracias por tu apoyo!
Nota: Los efectos no son archivos de estilo .ASL. Algunos efectos son complejos de realizar y no puede automatizarse su creación mediante estilos de capa simples. Pero es muy fácil modificar los textos o emplear los efectos en otros archivos. Todos los PSD han sido comprobados en Adobe Photoshop CS6 y Adobe Photoshop CC. En principio deberían funcionar correctamente en CS5 y CS4 inclusive.
You'll get 1 file (32.4MB)