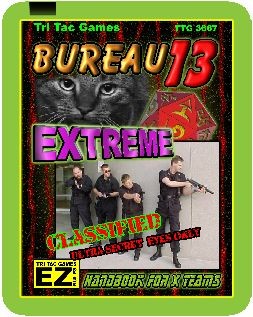 TTG#3667 Bureau 13 Extreme
A classified handbook for the X Teams of America's most secret government agency. This is the darker side of Bureau 13. These are the Paranormal SWAT Teams who take out the most dangerous threats to the common good. These are the X Teams, but best of Bureau 13's Agents, who never stop, never quit, and absolutely never fail in their missions to protect America from any that would harm it. This handbook is filled with new ideas, information and adventures and is compatible with other RPG systems with minor modification.
Includes the completely new Hearts module for mature RPG'ers. From the deep swamps of Louisiana to the cold Antarctic wastes, from the back roads of Indiana to the social hell of North Korea, there is one factor that binds these stories of Bureau 13. There are hearts that are broken, missing or stolen, and you are going to fix them.
You'll get 1 file (13.4MB)
More products from Tri Tac Games