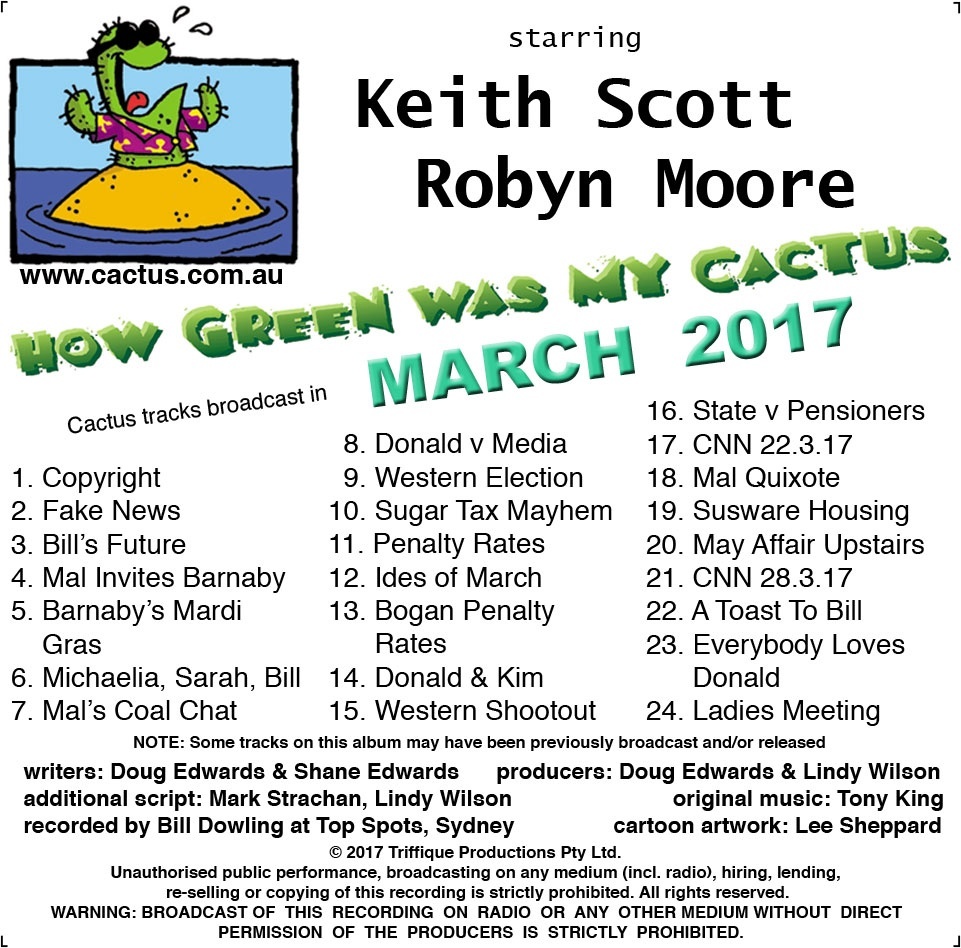 CACTUS - MARCH 2017 (all tracks)
DESCRIPTION
CACTUS - MARCH 2017
TRACKS
1. Copyright: All material downloaded is copyright.Unauthorised public performance,broadcasting on any medium (including. radio),hiring,lending,re-selling or copying of this recording is strictly prohibited.All rights reserved. ©2016 Triffique Productions Pty Ltd
2. FAKE NEWS: All the latest fake news includes Malcolm Talkbull's declaration of a new public holiday, the Be Nice To Pensioners, The Disadvantaged And The Unemployed Day.
3. BILL'S FUTURE: What does life after politics hold for Bill Curly? Apart from his plan to make his wife Chloe a pillow from all the lint he's collected from his belly button over the years. 
4. MAL INVITES BARNABY: Emperor Malcolm Talkbull invites his Deputy PM Barnaby Joh to the Gay Mardi Gras to expand his mind. Well, freshen up the air in his head at least.
5. BARNABY'S MARDI GRAS: At the Gay Mardi Gras, Deputy PM Barnaby Joh is complimented on his makeup. He explains that he hasn't painted his face red, he just has a very high neck.
6. MICHAELIA, SARAH, BILL: Flopposition Leader Bill Curly and Greens Senator Sarah Handsome-Rack discuss cuts to penalty rates with Employment Minister Michaelia Crash-Helmet in the Bob Hawke Commemorative Bar.
7. MAL'S COAL CHAT: Mal Talkbull chats to us about the C word, coal. Mal says coal power is as much a tradition in our country as football, meat pies, kangaroos and Holden, er, imported cars.
8. DONALD v MEDIA: Media Watch host Paul Nitpick says Donald Dump is no slow learner. It took Donald only weeks to do what other politicians take years to do: blame the media for everything.
9. WESTERN ELECTION: They's on the old election trail over there in West Cactus, where the Sheriff Colin Barnacle looks like he might just get scraped off the ship of state.
10. SUGAR TAX MAYHEM: Cactus News super gob Mark Mayhem finds that even the Pope opposes a sugar tax - priests are not well paid and can't afford an increase in the price of lollies.
11. PENALTY RATES: Malcolm Talkbull, Bill Curly and Pauline Hatful discuss the cuts to penalty rates while eating truffled lobster.
12. IDES OF MARCH: At X a.m. on the steps of the Senate, a soothsayer tells Malcolm Caesar to "beware the ides of March". Enter Brutus Abbottus.
13. BOGAN PENALTY RATES: Davo Bogan won't put up with cuts to penalty rates for his job as a bucket boy at the Groganville greyhound track, so he decides to end his career.
14. DONALD & KIM: When US President Donald Dump calls to warn Nth Korea's Dear Leader Kim Jong Nong to stop his nuclear program, they end up admiring each other's haircut.
15. WESTERN SHOOTOUT: When Labor wins the WA Election, a shocked and delighted Bill Curly shouts, 'Pinch me!' and immediately regrets that he is standing beside Anthony Albo and a pair of pliers.
16. STATE v PENSIONERS: Department of Human Services operatives Clyde Barrow and Bonnie Parker demands money from old-age pensioners Violet Crumble and Earl Grey.
17. CNN 22.3.17: US President Donald Dump cracks down on illegal drugs, which are being used in unprecedented quantities since the day Donald became the President.
18. MAL QUIXOTE: Mal Quixote, a mad old Spaniard and his manservant/treasurer ScoMo Panza tilt at windmills, believing them to be coal-destroying monsters.
19. SUSWARE HOUSING: Hey renters! Hey aspirational homeowners! Buying your own home an impossible dream? Susware has the answer! Yes that's right! Canvas Gardens Estate!
20. MY AFFAIR UPSTAIRS: Malcolm thanks Pauline for backing his job-creating legislation to reinstate the building and construction watchdog. Pauline explains that she's all for more jobs, even for dogs.
21. CNN 28.3.17: News from Sandra Silly, sport from Big Gazza Roidman, and showbiz guru Richard Richard explains that the only talent Kim Kardashian has is Kanye West.
22. A TOAST TO BILL: Labor's Bill Curly toasts himself on his amazing performance in the opinion polls. His colleague Anthony Albo would rather toast Bill on his barbecue.
23. EVERYBODY LOVES DONALD: Donald Dump hears ex-Pres Barack O'Bummer explain why he still has a key to the Oval Office: the American people may want him back in there in a hurry.
24. LADIES MEETING: Female MPs hold a meeting in the ladies restroom at Parliament Grouse. It's the only place in Parliament where they don't feel dirty.
NOTE: TRACKS ON THIS ALBUM MAY HAVE BEEN PREVIOUSLY BROADCAST AND/OR RELEASED.
COPYRIGHT: All tracks and material ©2017 Triffique Productions Pty Ltd. All rights reserved. All material downloaded is copyright. Unauthorised public performance, broadcasting on any medium (including. radio), hiring, lending, re-selling or copying of this recording is strictly prohibited. All rights reserved.
You'll get a 48.7MB .ZIP file.
More products from doug_e