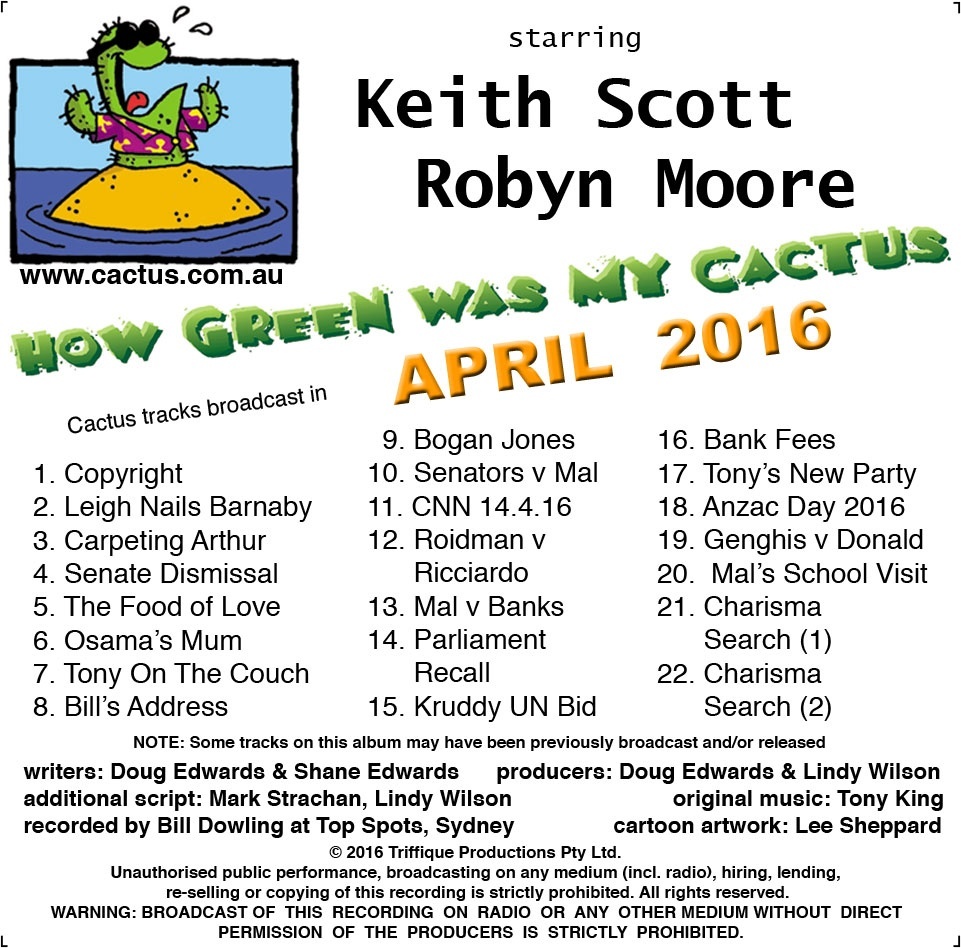 CACTUS - April 2016 (all tracks)
DESCRIPTION CACTUS - APRIL 2016 TRACKS 1. Copyright: All material downloaded is copyright.Unauthorised public performance,broadcasting on any medium (including. radio),hiring,lending,re-selling or copying of this recording is strictly prohibited.All rights reserved. ©2015 Triffique Productions Pty Ltd 2. LEIGH NAILS BARNABY: Leigh Nails, host of 7.30, grills National Party leader and Deputy PM Barnaby Joh, the man they call the tomato in an Akubra. 3. CARPETING ARTHUR: Emperor Malcolm Talkbull stand down his cabinet secretary Senator Arthur Daley over the Liberal Party donations scandal. They meet on the croquet lawn in Malcolm's office. 4. SENATE DISMISSAL: The Senate crossbenchers plan action against Mal Talkbull for threatening their jobs. Senator Dio Wang still wants to know why Penny Wong won't go out with him. 5. THE FOOD OF LOVE: Malcolm Talkbull finds himself in bed with the Green Party to get rid of independents and micro parties in the Senate. Is music really the food of love, or is it self-interest? 6. OSAMA'S MUM: Our homegrown terrorist leader Osama bin Wheelie is sprung by his mother as he plans an attack that will make 9/11 look like a custard tart fight. 7. TONY ON THE COUCH: Ex-PM Tony Abs visits a psychiatrist to discuss a colleague, Malcolm Talkbull. Tony says that Mal is such a nut that he's been banned from most school canteens. 8. BILL'S ADDRESS: Flopposition leader Bill Curly tries out his latest speech on his wife Chloe at their home, 13 Humdrum Way, Plopworth. 9. BOGAN JONES: Davo Bogan is spewin' about the PM's idea to let the States impose more income tax. Davo thinks he's talking about the United States. 10. SENATORS v MAL: When Emperor Mal confronts troublesome senate crossbenchers, Senator Ricky Muir threatens to run over him, even if it leaves snake oil all over the road.     11. CNN 13.4.16: Big Gazza Roidman reports that tennis brat Nick Curious has been called for one foot fault and 18 mouth faults. 12. ROIDMAN v RICCIARDO: Big Gazza Roidman talks about that happy, always smiling F1 champ Daniel Ricciardo. Or as Gazza calls him, Pollyanna in a crash helmet.   13. MAL v BANKS: Emperor Mal Talkbull has steam coming out his ears. He's been giving the Big Four Banks a piece of his mind. 14. PARLIAMENT RECALL: MP Clive Parmesan almost chokes on his cheeseburgers because no one has arms long enough to use the Heimlich Manoeuvre on him.    15. KRUDDY UN BID: If he becomes the UN Sec Gen, ex-PM Kevin Krudd intends to cure world hunger by introducing the Third World to his habit of eating his own ear wax. 16. BANK FEES: A customer complains to bank manager Mr Leech about the bank's credit card fees. The complaint attracts a complaint fee. It's all downhill from there.  17. TONY'S NEW PARTY:  In Cantberra's Queen Appreciation Club, ex-PM Tony Abs, Senator Eric A'Boofhead and Bronwyn Biddy form their new political force, the Stop The Boats Party.  18. ANZAC DAY 2016: CNN's Sandra Silly gets views on Anzac Day from Mal Talkbull, Bill Curly, Senator Cory Bananas and Shame Warne.   19. GENGHIS v DONALD: Talkback genius Genghis Porkbun tells us what to think about presidential hopeful Donald Dump's plan to deport all Muslims and use their minarets as Dump Towers.   20. MAL'S SCHOOL VISIT: Mal flags more cuts to public education. But Mal thinks public schools have a very important place. It's called history. 21. CHARISMA SEARCH (1): Labor leader Bill Curly is desperate to develop some charisma after the ghost of the Party's patron saint God Whitlam accuses him of being less interesting than flatulence.   22. CHARISMA SEARCH (2): Bill Curly tries on the charisma owned by Bonk Hawke, the most charismatic PM in history. To Bonk's disappointment, Bill wants to cut his charisma down the middle and wear it as a cardigan.. NOTE: TRACKS ON THIS ALBUM MAY HAVE BEEN PREVIOUSLY BROADCAST AND/OR RELEASED.
Copyright: All tracks and material ©2015 Triffique Productions Pty Ltd. All rights reserved. All material downloaded is copyright. Unauthorised public performance, broadcasting on any medium (including. radio), hiring, lending, re-selling or copying of this recording is strictly prohibited. All rights reserved.
You'll get a 42.8MB .ZIP file.
More products from doug_e