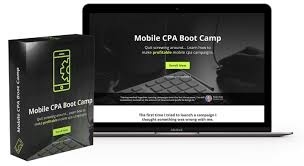 Mobile CPA Boot Camp
Mobile CPA Boot Camp – Is the ultimate CPA course to launch successful CPA campaigns. Mobile CPA Boot Camp allows you to correctly setup & executes the best CPA campaigns for maximum profit. Try Mobile CPA Boot Camp now today.

Figure out how to make beneficial mobile CPA campaigns.

Will cover precisely well organised how to discover, launch, and fully optimise campaigns. Each progression will be separated into simple to take after and comprehend modules permitting you to watch what I'm doing, as well as know why I'm doing it.

The procedures you'll learn here have created some of my longest running and most productive launches to date.

Why do some people absolutely crush it? And then others fight tooth and nail for every $1 they earn?

I'll tell you exactly what the secret is…

While I was trying to learn CPA marketing, I bought several courses, eBooks and workshops…

They all promised me to make ($100, $1000, $10000 / day)...

But

Most weren't worth the electricity required to even download them.

The few courses that did help me get a campaign profitable…. It was short lived and never made enough to pay for the course let alone make any money.

Finally enough was enough and I made a change that got me where I am today.

Introducing Mobile CPA Bootcamp
Over the last 2 and half years I've been running mobile campaigns as my primary income.

I also helped train and mentor over 5,000 entrepreneurs and business owners create profitable campaigns.

During this time I've uncovered and reverse-engineered the primary reasons people fail and learned how to avoid them. YOU need to implement these if you are serious about finally having success...

Over the past 12 months I've created one of the most popular performance marketing blogs. My writing and videos have helped tens of thousands of readers every month.

The crazy part?

This time last year, I was a complete nobody.

Now I have one of the fastest-growing blogs online...all because of one thing...

Yup! I share great content....and this course is packed with the best content I've ever shared. PERIOD.aunch. Optimize. Profit.

Take the Ultimate Mobile CPA Affiliate Marketing Course
What Topics Does the Course Cover?

This course covers three main topics:

1. How do I launch my first successful campaign?

As I learned to launch profitable campaigns, I documented every step of the process so I could teach you how to do the same thing.

We'll start at the beginning and lay the foundation for launching successful campaigns.

You'll learn the how to avoid the biggest mistake 95% of your competition makes.
You'll learn how to quickly setup a campaign without spending hours working on landing pages & banners.
You'll learn the one technique I used to take all the profitable traffic from a source after I find what works.
In the Mobile CPA Bootcamp Course I'm going to cover exactly step-by-step how to find, launch, and optimize campaigns. Every step will be broken down into easy to follow and understand modules allowing you to not only watch what I'm doing, but know why I'm doing it.

2. How do I know what to optimize once I'm getting data?
One of the biggest problems I ran into early on was knowing which data was relevant..But more importantly WHAT to do with it.

Should I keep running this campaign unprofitably?
When should I cut a losing landing page?
Should I just focus on this specific site / app?
There are so many options. It can be completely overwhelming. I spent nearly 3 months just trying to understand the best way to optimize something just to get it break even… let alone make a profit.

I'm going to give you an easy-to-follow blueprint to set up your internal systems to be able to optimize your campaigns without the worry of making a mistake.

3. How can I make money long term from my campaigns?
This is the $1,000,000 question...

"How do I make my campaigns long term?"

This is where it gets really fun.

You will learn how to turn a somewhat profitable campaign into a stable and profitable campaign (as much as one can).
You will learn the exact point at which you can start further optimizing your campaigns even after they are profitable.
You will learn how to make money off of every single click you buy, even if it will never convert on your current offer.
The strategies you'll learn here have generated some of my longest running and most profitable campaigns to date. They will show you exactly how to take your campaigns to the next level. Further distancing yourself from your competition.


10 More Things you'll learn in this Course

The exact step-by-step process you can follow to steal profitable campaigns from your competitors

How to create EPIC landing pages that convert
How to get yourself in the right mindset.
The best way to source offers that work
How to wisely use your Affiliate Manager like a business partner.
How to treat your CPA campaigns as a business and operate it like one.

Turn your short lived campaigns into sustainable assets that will pay you for the long term.

Separate yourself from your competition with untalked about optimization strategies.

Understand the value chain and where you fit in to make sure you are getting the highest possible return.

Frequently Asked Questions

Are there any guarantees that after taking this course, I'll have a profitable campaign?

If you not only complete the course but take action with the information you learn, there is a high probability that you will have a profitable campaign.

However 99% of people that will take this course will be lazy and give up. Due to this I cannot give any guarantees.

Will this course continue to be updated? And will I get free access to future versions?
Yes! This will be the flagship PPCMode product and it will be updated on a regular basis.

Once you are enrolled, all future versions are free at no cost.

How much more is in the course vs. what you already put out on your blog?
If the blog is a book, the course is an encyclopaedia. Some of the core concepts I've discussed on the blog are in the course.

However, the course goes into MUCH more detail, with use cases, examples, checklists and video tutorials on every single strategy.

Will this work for someone brand new to the "online marketing" industry?
Absolutely.

This course will help you get rid of all the "BS" and accelerate your chances of success.

What if I'm literally starting from step 0? No tracking software. No traffic sources. No affiliate network account...
Yes!

By the time you complete this course you will have successfully setup you're tracking, affiliate network and traffic source accounts.

You will have also researched your market and have launched your first campaign.

Can I afford this right now?
At the end of the day that's a question you have to answer.

However, I can tell you that the strategies in this course have made me and my students millions in online sales.

I was wondering if you are going to have "over your shoulder" videos?
Absolutely.

In the course I setup everything in real time after explaining why I am doing each step.

Do you offer a refund?
From what I've seen online, knowing there is a refund is an excuse to quit.

I've seen people take 60% of my courses in the past, then demand a refund because "It didn't work".

So no there will be no refund available, not because I need your money. But because everything this course offers including the price serves as a motivator to actually finally have success at this.

Is this course worth it?
When creating this course, I asked myself if I could go back in time and teach myself all over again, how I would do it...

This course was the result.

So if you'd like to skip ahead and avoid all the mistakes I made, including over $40k in loses chasing "hidden methods" then this course is worth it.

If you want to be sold the dream of a luxury lifestyle without much work... then no... this isn't worth it.

ONE TIME FEE

Gain access to the entire course + updates for life.
You'll get a 955.7MB .ZIP file.
More products from Digital Goods