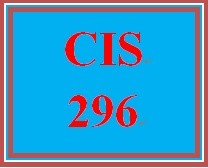 CIS 296 Week 2 Individual Troubleshooting Computer Hardware Worksheet 1
CIS 296 Entire Course Link
https://uopcourses.com/category/cis-296/
CIS 296 Week 2 Individual: Troubleshooting Computer Hardware Worksheet 1
Complete the Troubleshooting Computer Hardware Worksheet 1 (Appendix H).
Submit your assignment using the Assignment Files tab.
Appendix H 
Troubleshooting Computer Hardware Worksheet One 
In this worksheet, you must identify solutions for three separate computer hardware problems. For each solution, you must prepare an answer of at least 150 words within the answer boxes below. This assignment is due in Week Two. 
Part One: Troubleshooting a Failed Boot  
Problem 
Computer fails to boot.  
Details 
Error messages and beeps occur during Power On Self Test (POST) startup. Note. You have not recently upgraded the memory.  
Question 
What are four possible sources for the error messages and how do you troubleshoot them?   
Answer      
Part Two: Troubleshooting Memory  
Problem 
Error messages indicate there is a problem with memory.  
Symptom 
Recurring error messages about illegal operations or general protection faults are occurring during normal operation. Note. You have not recently upgraded the memory.  
Question 
How might memory be the cause of this problem? How would you go about testing the memory? 
If you determine that memory is not the problem by downloading a testing utility that does not fix the problem, what are the next three things you would suspect to be the source of the problem? Describe what you would do to eliminate each possible source.   
Answer     
Part Three: Troubleshooting a Hard Drive Problem  
Problem 
Computer shuts down immediately after startup.  
Symptom 
When you turn on the computer, the lights on the front panel light up and you hear the fan spin for a moment, but then it shuts down immediately. You have urgent data on the hard drive, which is not backed up.  
Question 
What is the quickest and easiest way to solve the most urgent problem: recovering data from your hard drive? List the major steps needed to recover data.  
Answer       
You'll get 1 file (81.5KB)
More products from UopTutorials