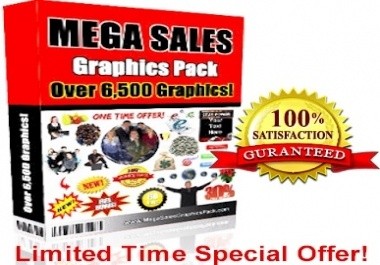 awesome GRAPHICS package Essential Designs,Smart Templates,Ready Graphics
Whether you are a blogger, web marketer or a webmaster, sooner or later you're going to need graphics. Personally I've outsourced this kind of stuff stuff for years, this however is always accompanied by delays, costs & aggravations.

When we need graphics we need them fast & we often miss opportunities waiting for third parties. The solution is simple: use ready made/editable designs & do it yourself or even teach someone you trust to do this for you … The difference between success & failure after all is better process control, taking action & limiting risks!

This is no ordinary graphics product, we haven't bloated this pack to create an illusion of value, it's only the good stuff, these are the same graphics we use ourselves & there's a few gems for you that you don't want to miss like the sales page heading text styles that we used on our top selling product launches! Sooner or later you're going to need one or several of these graphics so take a look & see what you think. You should find the quality & value impressive.

 

 





 

In this amazing graphics package you will receive a massive collection of graphics and templates that you can use in your graphic designs, websites, facebook pages, youtube channels, newsletters, blogs, print materials, videos and more.  

Header graphics- pre-made templates for the head of your website
Web icons - All the usual icons like trash cans, check marks, caution signs, bullets, underlines, highlights, etc.
Facebook Cover Images - Templates for awesome Facebook Page Covers
Call-To-Action Buttons - Pre-made buttons that say 'buy now', 'order now', and you can add your own text!
Marketing Banners - templates for online banner ads
Price Tags - Slick-looking price tag graphics for sales, etc.
User-interface Elements - Buttons, sliders, dials, etc.
Vintage Badges
Seamless Patterns 
Web Boxes - Fancy boxes for your website that you can add text to
Mobile App Icons - iPhone-style app buttons
3D Arrows - A collection of 3D arrow graphics
Man holding money - A collection of graphics of a guy holding s dollar sign, euro sign and pound sign
and much more...
Most graphics come in pre-made, ready to use form, as well as in PSD files so you can edit them.
You'll get 1 file (73.0bytes)