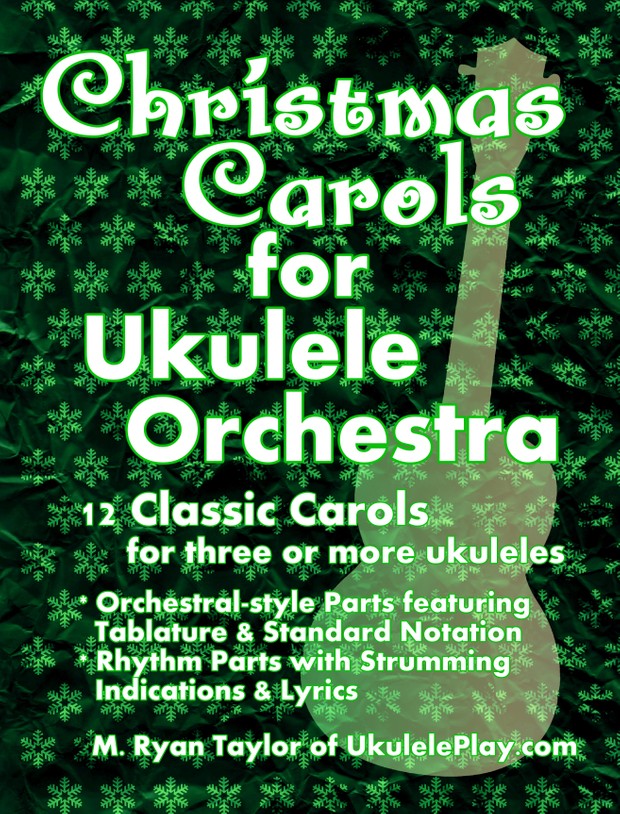 Christmas Carols for Ukulele Orchestra
12 Classic Carols for Three or More Ukuleles. Features include:
*Orchestral-style Parts featuring Tablature & Standard Notation
*Rhythm Parts with Strumming Indications & Lyrics
I was inspired to create this book by a number of things; my love for the ukulele, the ukulele ensemble I lead in the heart of the Wasatch mountains (UFO HUM: Ukes for Others Happy Ukulele Movement), my experience as a composer and arranger, and not least, some great arrangements for ukulele ensemble that I've seen others do.
As I've used some of the arrangements made by others with my UFO HUM group, I've compiled a wish list of things I'd like to see in a book of this kind. For instance, tablature parts for those playing strictly instrumentals (we spend a lot of time in rehearsal just figuring out the best fingerings), a rhythm part that includes strum suggestions with the chords, and lyrics for those of us in the group who like to sing as well as play.
This book meets these qualifications for the most part. Carol of the Bells and Deck the Hall omit the lyrics for purely instrumental versions of these standbys. Deck the Hall and We Three Kings also omit a rhythm part with chords for reasons of complexity. All in all, I hope you enjoy my take, influenced largely by my college studies in 16th and 18th century counterpoint as a composition student, to be a lot of fun for you and your ukulele orchestra or ensemble!
Merry Christmas!
M. Ryan Taylor
UkulelePlay.com
You'll get 1 file (4.4MB)