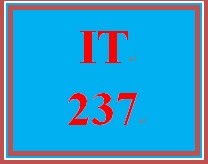 IT 237 Week 1 Toolwire ® Tutorials and Toolwire ® Lab: Creating a Basic Web Page
**********************************************
IT 237 Entire Course Link
https://uopcourses.com/category/it-237/
**********************************************
IT 237 Week 1 Toolwire ® Tutorials and
Toolwire ® Lab: Creating a Basic Web Page
Resources: 
Toolwire® Lab: Creating a
Basic Web Page Lab
Complete 
the
Toolwire® Lab: Creating a Basic Web Page.
Create 
a new
folder on your computer called it237-name, where "
name"
 is the first initial of your first
name and your last name (all lowercase). Do not include spaces or use capital
letters in the folder name.
Complete 
Toolwire® Tutorial
1 to create the soccer club web page using Microsoft
®
 Notepad or Code
View in Adobe
®
 Dreamweaver
®
.  Note: This
web page will be enhanced in the week 2 assignment.
Save 
your web
page as NameTutorial1.html in your it237-name folder on your computer, and
compress (zip) the folder (Maximum file size is 10MB).
Submit
 the
zip file to the assignment tab. 
You'll get 1 file (1.0KB)
More products from UopTutorials