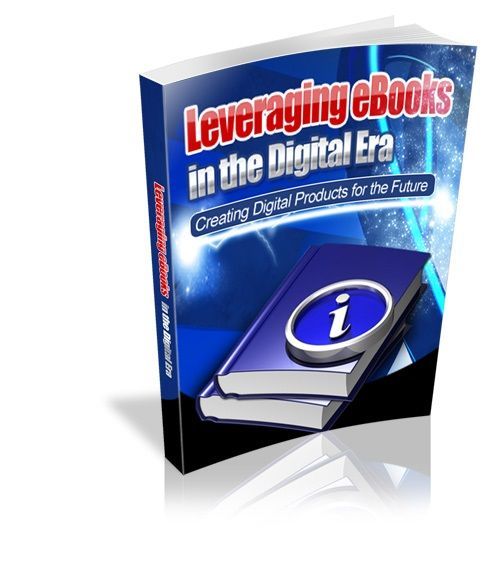 Leveraging eBooks in the Digital Era
Creating Products For The Future

Hundreds of thousands of people are now making a living in eBook production and sales!

Producing and Selling eBooks in the Digital Marketplace Provides a Perpetual Source of Income That Can Change Your Life Forever

Learn How to make your fortune in preparing and selling eBooks

Leveraging eBooks in the Digital Era includes the following valuable information:

* The basics and fundamentals of eBook production
* Deciding how your eBook will be used
* Selecting the best format for your objective
* Picking a relevant topic that will generate sales
* Compiling your eBook for the marketplace
* Incorporating advertising or other promo into your eBook
* Adding other extras in your eBook package
* Effectively launching your eBook through the proper channels
* Insight on eBook marketing and promo
* And much, much more ...

Leveraging eBooks in the Digital Era Will Tell You How You Can Leverage Your eBooks in Order to Maximize Your Revenue!


Your License

Yes can be sold
Yes can be sold with resale rights
Yes can be combined with other offers or sold as a package
Yes can be added to a membership site
Yes can include within website flips (personal rights only)
Yes can give the product away
NO CANNOT be sold with private label rights


What You Get To Help You Resell This:

*eBook (PDF), Graphics, Sales Page, Squeeze Page, List of Free Marketing Tools (PDF), the Master Resell Rights (MRR) License. By MRR license, if you buy a product with master resell rights and then sell it, your customer may resell the product for profit as you did (Wikipedia).

This may be the business opportunity you have been waiting for all your life. It is also probably the best one that will ever come across your path. SO GET YOUR COPY NOW AND WATCH YOUR DREAMS COME TRUE! Do you want to be thinking back on this years later down the road with regret that you didn't act when you should have? I doubt it. However, the choice for your future is in your own hands. When all is said and done, we have to take responsibility for own actions, including the success or failure that comes to pass because of our decisions.

Do you really want success? Or do you just like to dream and talk about stuff that you're never going to do? Keep in mind that though it is yesterday that has made you what you are today, it is today that will determine what you become tomorrow. You have your own destiny in your own hands. So act now and change yours into success.


P.S. You can start building your eBook empire today.
You'll get a 2.5MB .ZIP file.
More products from Smart Life Skills