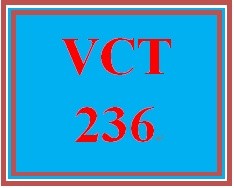 VCT 236 Week 5 Individual: Image Editing Portfolio Final Project
Entire Course Link
https://zh.scribd.com/document/340327850/Uop-Tutorial
 VCT 236 Week 5 Individual: Image Editing Portfolio Final Project 
Complete the Portfolio Project.
Using feedback received from your facilitator and the learning team collaboration discussions throughout the course, make any necessary improvements to your portfolio images.
Save all images in JPG format.
Use Adobe® Bridge to organize all of your image files created for the Portfolio Project during this class into a collection. Ensure that each image has an appropriate file name that identifies the week the image was created and the name of the image (e.g., "Week2_Portrait"). Add appropriate metadata and keywords to each file.
In Adobe® Bridge, using the "Output" menu, create a PDF portfolio using the "Fine Art Mat Template" setting. Update the settings as you desire, making sure that each image is clearly displayed on its own page. Include the file names under the "Overlays" menu for each image.
Include and demonstrate the following in your PDF portfolio document:   
Four images (i.e., your final images saved from Weeks One through Four)  
Use of multiple layers and selection tools, such as used in the compositions from Weeks Three and Four  
Use of blending and refine edge for clean selections and edges  
Blending modes  
Color adjustments and correction  
Photo retouching  
Text and text effects  
Effective design principles and composition  
Effects and filters  
Masks and channels  
Save your PDF portfolio document in a .zip folder.
Submit the Image Editing Portfolio Final Project to the Assignment Files tab.
You'll get 1 file (1.8MB)