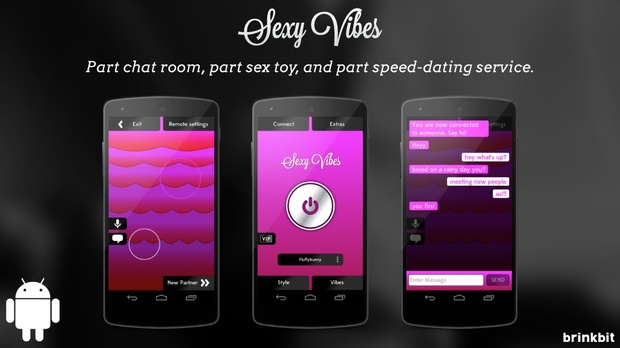 Sexy Vibes - Vibrator App for Android
****Even after 2 Million downloads, Google decided to ban Sexy Vibes from the Google Play app store. So, now we're just distributing the app ourselves for $1 from our website. If we can raise enough money, we plan to just make our own App Store that would be designed specifically for Adult themed apps.****
Part chat room, part sex toy, and part speed-dating service, Sexy Vibes is more than a vibrator app: it\'s your portal to connect, talk, and touch with over a million users. We spent many, many nights painstakingly crafting and testing all the vibrations and features Sexy Vibes has to offer, just for your pleasure.
Get in touch with someone you know, or randomly meet someone new via our smart matching service to send and receive vibrations from other users anonymously.
If you want to go solo, Sexy Vibes has you covered with over 10,000 user submitted vibration patterns ranging from the intense "Washing Machine" to the gentler "Fluffy Bunny."
Even better, record and share your own vibration patterns with our gorgeous, redesigned vibe creator!
And if your phone\'s built-in vibrator isn\'t enough, activate OhMiBod™ Mode to use Sexy Vibes as a controller for any OhMiBod™ brand vibrator.
★Features★
✓ Automatic matchmaking finds a random anonymous partner in seconds
✓ Sexy chat with text and voice
✓ Press, hold, rub, and stroke our touch-friendly new interface for sending vibes to your partner
✓ Create, preview, and share vibes with real-time touch
✓ Elegant design and improved performance speed
✓ Customize Sexy Vibes' appearance with the most distinctive themes around
✓ Classy music to set the mood
✓ Download user submitted vibrations by the Sexy Vibes community
✓ Review vibes and share them with your friends
✓ The most full-featured vibrator app on the app store
★ Remote control ★
✓ Long distance relationship? He can take control of your vibrator over the Internet!
✓ Don\'t have a special someone? Don\'t worry: we'll match you with a random anonymous partner.
✓ Connect over your local wi-fi network, or over the Internet
From our reviews:
"Hits the spot every time. I\'m such a nympho and have often been caught without a vibrator in the past. Now all my problems are solved!"
"This vibrator app is AMAZING. I put it in a pillow and grinded on it mmmmm so good and it lasts so long!!"
"Best vibrator app ever! This app has everything! Love the new features! A+!!!!!"
"The best of its kind."
"I've always had a hard time in bed on my own satisfaction. this is great. I actually just finished and i timed it... ;) a solid two minutes....does what it's meant for most def. Highly recommended"
An app by Brinkbit Apps & Games.
Brinkbit Website
http://www.brinkbit.com/
Brinkbit on Facebook
http://www.facebook.com/brinkbit
Brinkbit on Twitter
http://twitter.com/brinkbit
You'll get 1 file (32.3MB)
More products from Brinkbit - Apps & Games