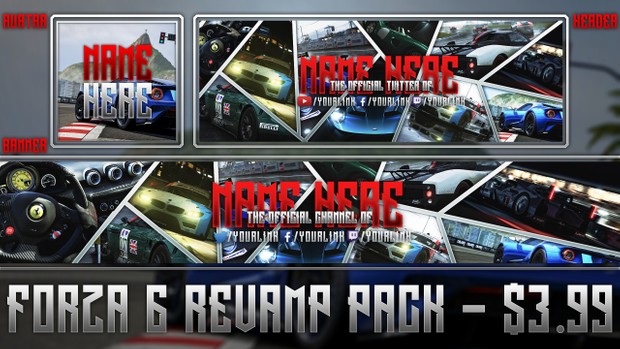 Forza Motorsport 6 - Social Media Revamp Pack - Avatar, Banner, Header
A Full Social Media Revamp Template Pack using Wallpaper Images from Forza 6 Motorsport. All Designed to the wallpaper style of Grand Thieft Auto. This pack includes a Avatar Logo, Twitter Header & a YouTube Banner.
Purchase the full Revamp Pack that includes 15 Graphic Design Templates here.
https://sellfy.com/p/G5Nw/
All of the project files are 100% Editable in whatever Adobe Photoshop Edition you have & is ready for you to manipulate the design to your liking and is waiting to be applied to your YouTube Channel, Twitter ACCOUNT, Twitch Channel, Facebook Page or Skype ID image.
Pack Created By AcezProduction
https://sellfy.com/AcezProduction
Check Out High Quality Renders of Each of the Products Thumbnails Here
http://AcezProductionsOfficial.Weebly.com/Portfolio.html
By purchasing this product pack from AcezProduction's Official Store. You hereby acknowledge that you will never give it out to your friends or sell it in your own store. The members at the Acez Productions Network & I put a lot of time into these projects to meet the rising demands of better graphics designs & we don't wish our products to be floating around the web FOR FREE unless we want them too.
There are also no refunds allowed due to us losing MORE MONEY then we had pre-purchase. This is due to because of Sellfy's 5% Third Party Fee. So make sure you have the right product you're looking for and are certain that it is the one.
Enjoy.
-AcezProduction
You'll get 1 file (15.9MB)
More products from ACEZ Graphics Templates