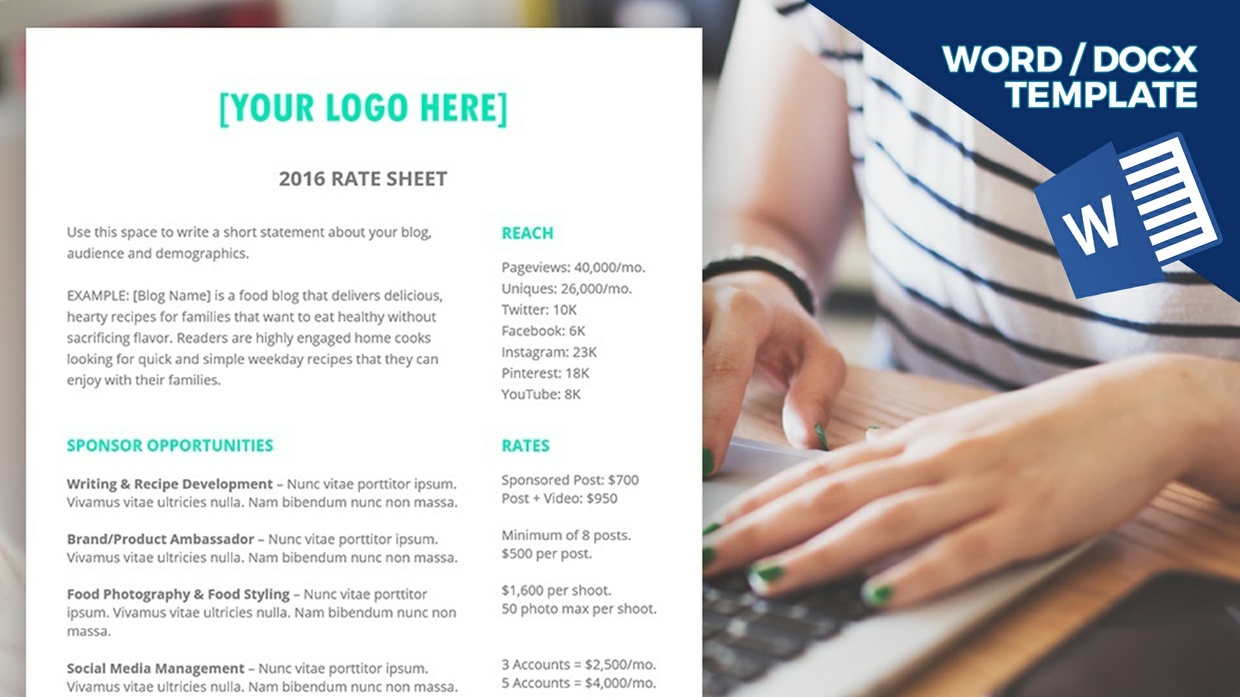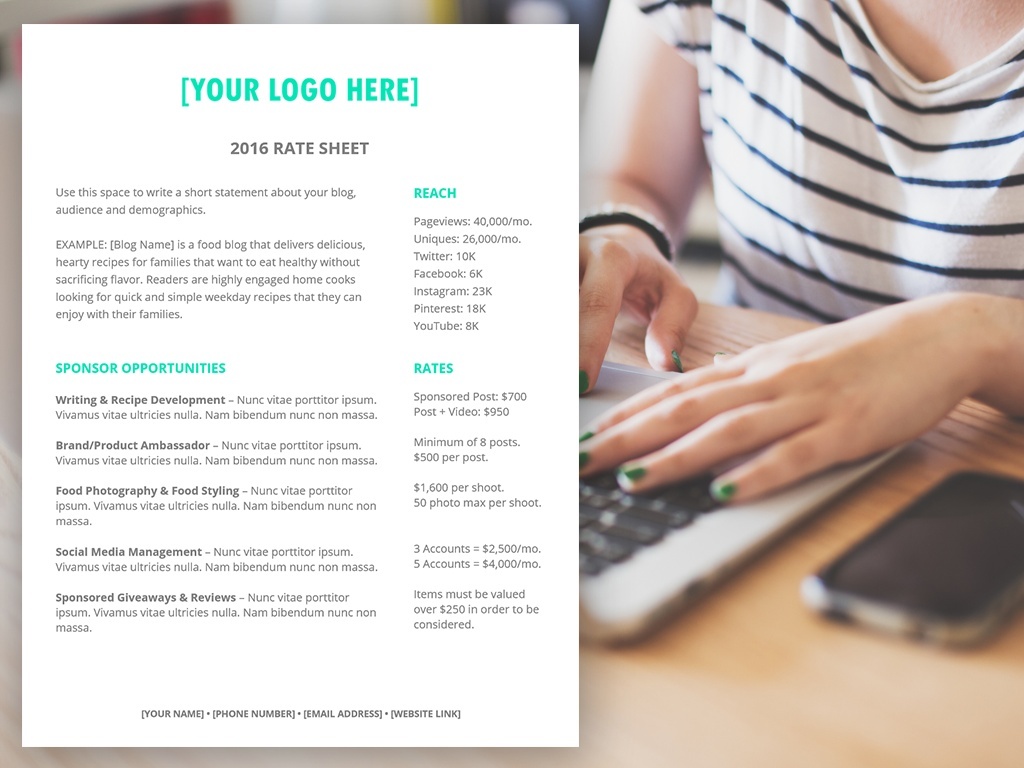 MINIMAL Blogger Rate Sheet Template
Available for Instant Digital Download {.docx // MS Word file}
Never wait to send your rates again! Present them beautifully in this quick and easy Blogger Rate Sheet Template.  Just fill it in, save as a pdf, and you're done!
BLOGGER RATE SHEET TEMPLATE

If you're a blogger who wants to take your brand work to the next level, you'll need a rate sheet to send to brands that let's them know what services you offer and how much you charge for those services.  Consider using a blogger rate sheet template to get the ball rolling.
No time to put your rate sheet together?  In a hurry to reply to a brand email, but don't have a rate sheet yet?  No problem.  Just download this template, extract the files from the zip files, and get started!
In no time at all, you will have a completed rate sheet that you can save as a PDF and send out to all of your potential brand connections without making them wait. 
More about the Blogger Rate Sheet Template
EASY TO EDIT
All of my templates are created in Microsoft Word (saved as Docx files) and are super easy to edit.  You don't have to worry about formating because I've taken care of all of that for you.  My templates come with custom text boxes already laid out for you so there is no way to make a mistake or mess up the layout.
But they're also fully customizable so you can be creative give this template your own personal touch.  Switch out the colors, move the text areas around, change the fonts, etc.  The customizations you can do are virtually limitless.
I've also included a handy PDF Guide for you to help you edit your template.  And if you get lost or aren't sure how to edit something, you can always email me at
[email protected]
for help.  I'm here for you if you need assitance.
HOW THIS WORKS
After purchasing your template, you'll be able to download your files immediately.  What you'll find is a zip file that you'll need to extract in order to access your template.
More on how to extract files here: 
http://bit.ly/1g4Emqe
WHAT'S INCLUDED
– 1 page rate sheet template
– 1 Logo graphic template
– Sample rate sheet in PDF format
– Microsoft Word,  Photoshop PSD and PNG formats
– Customization Guide in PDF format
REQUIREMENTS
- Microsoft Word 2007+ (for Windows or Mac)
- Adobe Photoshop or other photo editing software, such as PicMonkey
Don't have Microsoft Word? Download the latest free trial for both Mac and Windows here:
http://products.office.com/en-us/try
Please note: This template may not be compatible with programs other than Microsoft Word.
To customize your template, please see this related YouTube tutorial:
https://youtu.be/cvv-3HlRUmc
Any questions can be referred to:
http://www.chantillypatino.com/contact/
You'll get a 290.3KB .ZIP file.
More products from Chantilly Patiño Designs