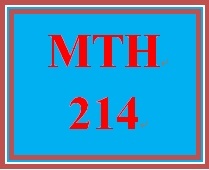 MTH 214 Week 4 Checkpoint
Entire Course Link
https://uopcourses.com/
https://plus.google.com/u/0/108200033792883877670/posts/dWT4sDYbQKM
 MTH 214 Week 4 Checkpoint
The purpose of the MyMathLab® Checkpoint is to assess your understanding of weekly learning objectives.
Prerequisite Assignment: MyMathLab® Study Plan for Weekly Checkpoint
Complete this week's MyMathLab® Checkpoint.   
Click the Quiz tab.  
Click External Content Launch to access MyMathLab®.  
Click Homework and Tests in MyMathLab® on the top left corner of the screen.  
Click the Checkpoint for this week.  
Note: You must earn at least 80% of the Mastery Points in the weekly MyMathLab® Study Plan before you may start the weekly Checkpoint.
You'll get a 1.2MB .DOC file.