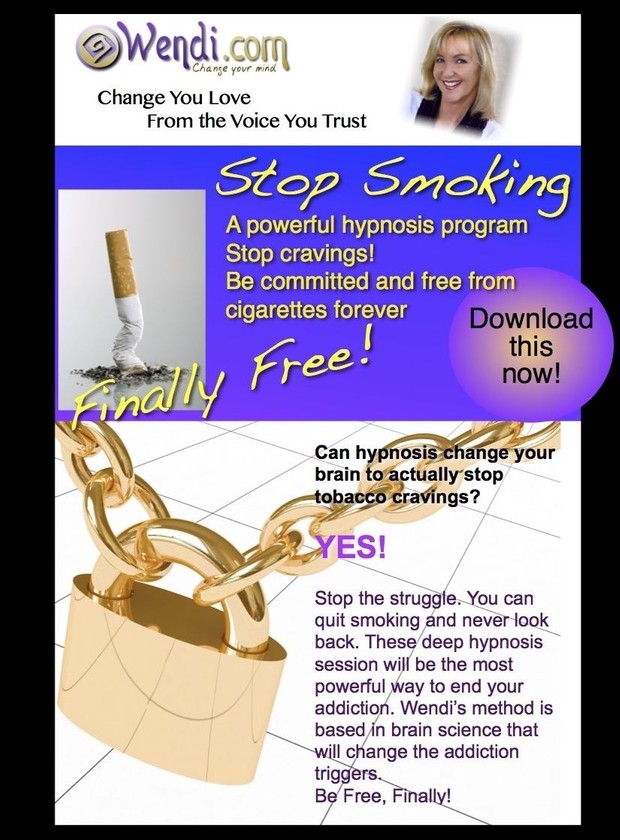 Stop Smoking with Hypnosis- the powerful, permanent way to quit cigarettes for good.
Finally Free
Stop Smoking Program with Hypnosis
Are you afraid to quit smoking again and fail?
Do the cravings make you crazy?
Are you scared to try the new drugs to quit?(you should be scared of that!)
Ready to quit for good- no cravings, no withdrawals, no weight gain?
You can be free from the cravings and withdrawals of smoking.
Be free from cigarettes.
Make a commitment that will affect you for the rest of your life.
Your commitment and these Downloads will make you a permanent non-smoker.
Disconnect from the emotional reasons you smoke.
Remove unconscious associations and triggers in your subconscious mind.
Make a commitment, in a state of hypnosis, which will last a lifetime... this time for good.
This Special Download Package with 5 hypnosis sessions and eBook will make you a permanent non-smoker.
DOES IT WORK?
IN LESS THAN ONE WEEK you will no longer want a cigarette. Listen to ONE session each day, and your brain will simply forget to smoke!
Dear Wendi,
I wanted to send a big thank you for the wonderful quit smoking hypnosis program. I am now smoke-free for 12 days without major cravings, and I feel like a million bucks. I have wanted to quit smoking for many years, but was the very thought of giving up my pack-a-day habit caused great fear (and of course, a craving). I started the
Wendi.com
hypnosis program to quit smoking in good faith and with an open mind, and I truly cannot believe the results, and neither can my friends and family. I am amazed and deeply happy to be cigarette free. Thank you from the bottom of my heart. Keep up the good work!
Stop Smoking Hypnosis is a powerful program and if you are ready, it can be easy!
This program includes a hypnosis session to release cravings and withdrawals, and a "quick fix" called velvety breathing that instantly releases cravings. It also includes a deep commitment process that will convince your subconscious mind that you are a nonsmoker for life.
The eBook will help you go through the day to day process, instruct you on how to use your posthypnotic suggestions and anchors.
What are you waiting for? Stop smoking now and let today be the start of your new smoke free healthy life!
You'll get 1 file (101.0MB)