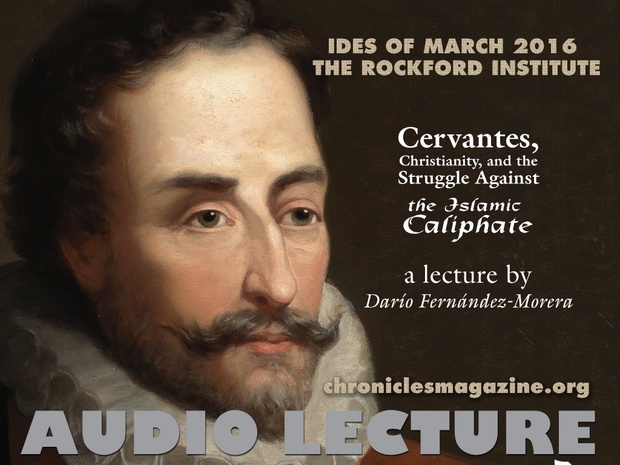 Cervantes, Christianity, and the Struggle Against the Islamic Caliphate, by Darío Fernández-Morera
What do you know about the author of 
Don Quixote
, which is widely considered among the greatest novels ever written?  In this audio lecture, Northwestern University professor and author
Darío Fernández-Morera
details the life of Miguel de Cervantes, who not only wrote this masterpiece but was shot twice in the chest while fighting for Christian Europe against the Islamic Caliphate.  How did the struggle against insurgent Islam shape the life and work of Cervantes?  More importantly: Are there lessons for us that we might apply to today's Clash of Civilizations?  
"Cervantes, Christianity, and the Struggle Against the Islamic Caliphate"
was the topic of the
Sixth Annual Ides of March Lecture, Presented by Chronicles: A Magazine of American Culture
.  This riveting talk was delivered by Darío Fernández-Morera on March 17, 2016, at The Rockford Institute, in downtown Rockford, Illinois, and includes a fascinating Q&A time with the live audience.
---
Format: Audio
File: mp3

Duration: 1 hour, 19 minutes, 24 seconds

You'll get 1 file (36.6MB)