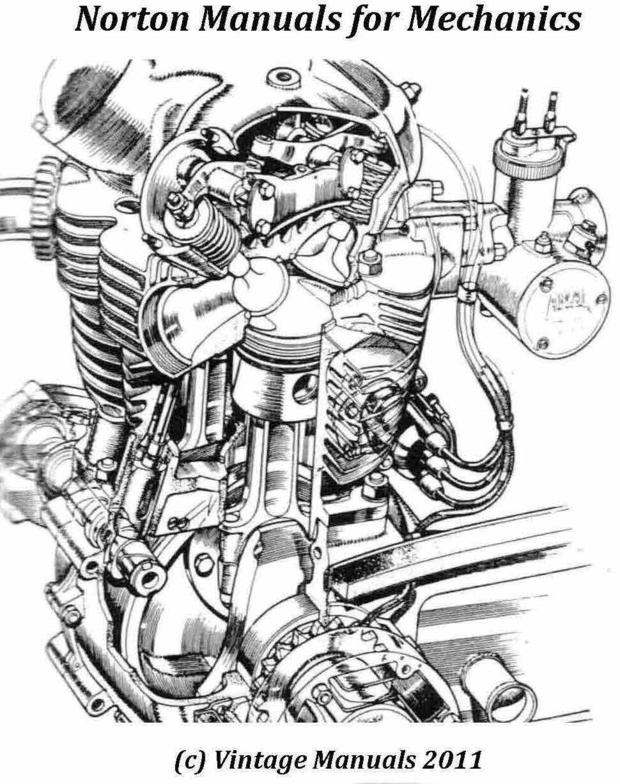 Norton Service Manuals for Mechanics..
Norton Service Manuals for Mechanics..
A good collection of Vintage Norton manuals. Aimed at the motorcycle mechanic
but equally at home in the hobby workshop.
Covers models
Norton 16H Big 4 18 ES2 Manual 1956
Norton 16H, Big 4, 18 & ES2 manual
Norton 16h, big 4, 18 Instruction book 1940s
Norton 88 & 99 Manual 1957
Norton 88, 99, ES2 and 50 spare parts list 1959
Norton Dominator Twin Model 7 Parts List 1949
Norton ES2 , 19 Ridged and spring. Frame parts list 1955
Norton Jubilee 250cc Instruction manual 1959
Norton Jubilee 250cc spare parts list 1959
Norton Model 7 Dominator Twin & 88 De luxe Twin 1955 parts
Norton models 88 & 99 De Luxe Twin Parts manual 1956
Lucas Norton Parts 1958.
Contains Service and Parts manuals for these popular 1940s - 1950s
machine. All in all a good mechanics CD. All the work is completely re mastered
and restored to this mechanics archive.
There is also an extra bonus section on this Disk containing the following
Norton manuals.
Norton BW Riders manual 1972
Norton 750 Commando 71 parts1
Norton 750 Commando 71 parts2
Norton 850 commando Mk3 workshop 1975
Norton 850 commando parts 1971
Norton Commando 750 Service 1970
Norton Commando Workshop
Norton Full Flow Oil_Kit
Norton interpol 2 workshop manual
Norton Oil Temp
Norton Race_kit
Norton Wiring Diagrams
Norton wiring _capacitor_ignition
Norton wiring _Commando_1972-74
Norton wiring _Commando_1977
Norton wiring N_magneto_ingition
Easy Self Running CD..
This is a self running Download created using the acclaimed Auto Run Max software.
Simply pop in your player it will load automatically.
Then simply select the work you wish to view. Click and Go.
You can print the page or the entire manual if you wish.
Works with Win 95, Win XP, ME, 2000,Windows 7, Etc..
You'll get 1 file (123.0MB)
More products from Themanualman