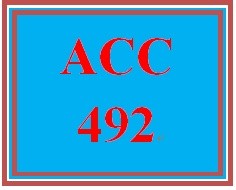 ACC 492 Week 4 Case Study Assignment
ACC 492 Entire Course Link 
https://uopcourses.com/category/acc-492/
ACC 492 Week 4 Case Study Assignment
Resource
: Case 8.1: Laramie Wire Manufacturing: Using Analytical Procedures in Audit Planning from Auditing Cases: An Interactive
Learning Approach located on the Week 4 Materials page
Prepare
 written answers that follow the case.
1. Perform analytical procedures to help you identify relatively risky areas that indicate the need for further attention during the audit, if any.
2. Focus specifically on each of the five management assertions (existence or occurrence, completeness, valuation or allocation, rights and obligations, and presentation and disclosure) for the inventory account. Link any risks you identified for this account in question 1 to the related management assertion. Briefly explain identified risks or issues for the inventory account that require further attention, if any.
Click
 the Assignment Files tab to submit your assignment.
Cite
 your research and 
format
 your paper consistent with APA guidelines. 
  XX  XXX Starter 1
You'll get 1 file (23.2KB)
More products from UopTutorials