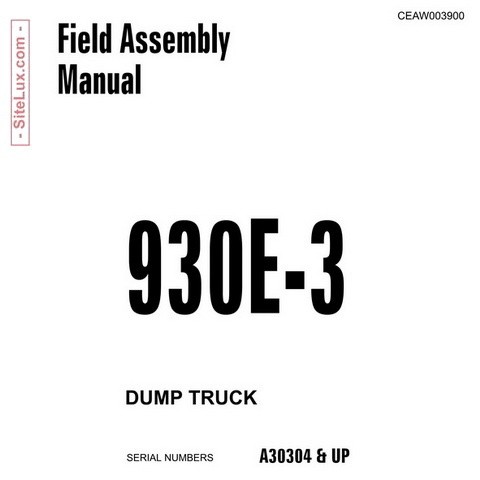 Komatsu 930E-3 Dump Truck Field Assembly Manual - CEAW003900
The Field Assembly Manual provides you with everything you need to know in order to assembly your Komatsu 930E-3 Dump Truck safely and effectively. Step-by-step assembly procedure, parts installation, adjustment and maintenance procedure after completion of assembly.


APPLICABLE MODELS :

Komatsu 930E-3
Serial Numbers : A30304 and up


TABLE OF CONTENTS :

- FOREWORD
- SAFETY RULES, TOOLS & EQUIPMENT
- TRUCK COMPONENTS AND SPECIFICATIONS
- MAJOR COMPONENT WEIGHTS
- FIELD WELDING FOR ASSEMBLY OR REPAIR
- RECEIVING AND ASSEMBLY PREPARATION
- CHASSIS ASSEMBLY
- DUMP BODY ASSEMBLY
- FINAL ASSEMBLY
- FINAL CHECK-OUT
- APPENDIX


MANUAL SPECIFICATION :

File Format : PDF
Language : English
Printable : Yes
Searchable : Yes
Bookmarked : Yes
Product Code : CEAW003900
Total Pages : 327


This page sometime can be found use following keyword : service manual, repair manual, workshop manual, technical manual, owner manual, operating manual, maintenance manual, parts manual. Please make sure you read and understand the title of this manual before decided to buy.
You'll get 1 file (46.5MB)