WLA 06 | Landscape Architecture Magazine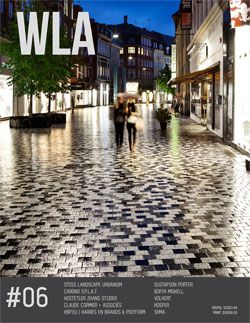 WLA 06 | Landscape Architecture Magazine
WLA #06 includes built and unbuilt projects including urban design, recreational design, urban plazas, hotels, riverfronts, public art, from across the world including USA, UK, Denmark, China, Canada, Taiwan, Australia, New Zealand, Belgium and Tibet. This edition includes projects from Stoss Landscape Urbanism, Gustafson Porter, Boffa Miskell, Hosper, Claude Cormier + Associes, KBP.EU | Karres en brands and Polyform, Volkert, Cardno S.P.L.A.T., Hostetler Zhang Studer and SHMA.
More from this seller
WLA #02 features the 9/11 Memorials in New York and Pennsylvania Projects featured include SHARED SPACE 2.0 | OKRA| MAXWAN A+U | BASLER&HOFMANN PINK BALLS | CLAUDE CORMIER WUYUAN MOON BAY | HASSELL FLIGHT 93 NATIONAL MEMORIAL | PAUL MURDOCH ARCHITECTS & NELSON BYRD WOLTZ LANDSCAPE ARCHITECTS ...
WLA #03 feature project was STOCKHOLMSPORTEN by BIG (BJARKE INGELS GROUP) Projects featured in this edition include STONE RIVER | JON PIASECKI AQUA-CULTURES | STOSS LANDSCAPE URBANISM DARLING QUARTER | ASPECT STUDIOS LA MUÑECA | OGLO STOCKHOLMSPORTEN | BJARKE INGELS GROUP BEACH PROMENADE | SPEKTRUM ...
Projects featured in WLA 04 include MARGARET MCMILLIAN PARK | BDP SHIFTING FIELDS | ACT CENTRAL DELAWARE RIVERFRONT MASTER PLAN | OLIN RIVER OF LIFE | HASSELL WILMINGTON WATERFRONT PARK | SASAKI ASSOCIATES PETRA STRATEGIC MASTER PLAN | DESIGN WORKSHOP STAR MAZE | LOLA, DELTAVORMGROEP AND PIET ...
Choose product
Place order
Download product
Secure 256-bit connection
Choose product
Place order
Download product